Maize belongs to the world's main grains, therefore, the processing of maize is always quite applicable in areas where is rich in maize. The small maize milling machine is a most practical maize flour milling machine for people in Africa, such as Zambia, Libya, Sudan, Kenya, Uganda, etc.
Features of complete set small maize milling machine
The whole maize milling process from maize grain to flour goes through air circulation, no worker is needed in middle process; only one person is needed to packaging finished maize flour.
This small maize flour milling machine can process several kinds of grains, such as maize, barley, oats, and so on; the particle size is also adjustable to meet different market demand.
The crushing part is national patented with low speed, so that no heat is generated in the milling process, and the characteristics of grains are not changed.
We have 10tpd, 15tpd, 30td and other turnkey plans for your maize milling. Click the picture to learn more details.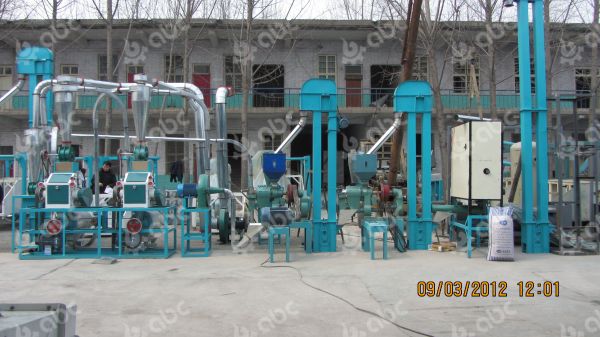 Small maize milling plan advantages
The whole maize milling machine uses flat line design and plate mode: all main machines are settled on the ground with a straight line configuration, which makes installation and maintenance very convenient. The entire production line is in automatic continuous operation, so no special requirements for the workshop.
This maize milling plan is new and flexible. It is designed with extra space for you to expand productivity, so that it can meet your long-term development. You can use it to produce high grade maize flour.
The peeling machine and maize milling machine is flexible and can not only work independently but also simultaneously with several sets of machines.
Low power consumption, high efficiency, flexible operation, convenient maintenance.
Adopts imported grinding head, grinding roller and chain drive to be energy efficient, durable and low noise; maintenance cost is reduced by 70%.
Less investment is needed. Compared to maize milling machine from other manufacturers, the one from ABC Machinery can save you more than 50% investment.
The small maize milling machine occupies few workers: the whole production line only needs 1 worker, and labor intensity is low, which is also the most competitive in this maize milling plan.