At present, many countries have overnutrition due to the excessive proportion of animal food in their diets, causing a series of health problems. Therefore, the development of plant protein and the provision of high-quality and low-cost protein for the society have become an important issue for improving people's nutritional structure. Soy protein industry has undoubtedly assumed such an important task. From the perspective of development trends, the soybean protein processing industry will be the most potential and promising field in the deep processing of soybeans.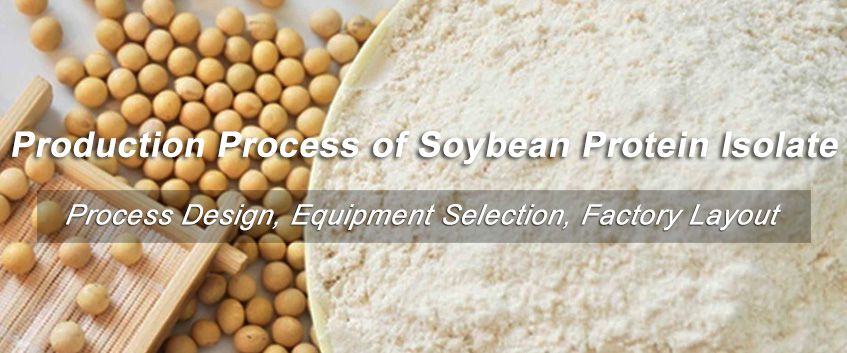 Production Process of Soybean Protein Isolate Product
The Efficacy and Function of Soybean Protein Isolate
The soybean from protein is a kind of full-price protein food additive produced from low-temperature desolubilized soybean meal. The protein content of soy protein isolate is more than 90%, there are nearly 20 kinds of amino acids, and it contains essential amino acids. Soy protein is rich in nutrients and does not contain cholesterol. It is one of the few varieties of plant protein that can replace animal protein.
Soybean protein isolate can be found in the following foods:
Protein supplements (protein shakes, protein bars, etc.)
Dairy products
Certain meat substitutes
Condiment
Bakery products
One of the reasons why people switch to a plant-based diet is to reduce cholesterol in the diet, because high-meat diets usually contain high cholesterol. One of the advantages of soy protein is that it does not contain cholesterol, contains a small amount of saturated fat, and is a high-quality protein. This makes it an ideal substitute for meat products. Further research has shown that soybeans may actually lower LDL levels (the so-called "bad cholesterol") and increase HDL levels of good cholesterol. It has been found that this effect is greater in less processed soybeans than refined protein.

Soy Protein Isolate Product
Soybean protein has a relatively high zinc content, which is different from many other plant-derived proteins. The human body's absorption of zinc in soybeans is only 25% lower than that of meat. Low zinc content is related to low testosterone levels. Low testosterone levels can affect muscle growth and cause fatigue. Therefore, if you often feel sleepy, try a soy protein shake.
Soybean protein is also rich in vitamin B, calcium, iron, magnesium, phosphorus and potassium, which are necessary to support the immune system and energy production. Soy protein is full of nutrition and can make you feel full of energy and energetic.

The Description of the Soybean Protein Isolate Process
How to isolate protein from soybeans? Soy protein isolate is the production process of extracting soluble protein solution from low-temperature defatted soybean meal with water or lye, and then undergoing acid precipitation, water washing, neutralization, drying and other processes to prepare high-protein soybean meal. ABC Machinery will briefly introduce the three stages of soy protein isolate processing in the following, and hope that you will have a better understanding of the processing process of soy protein isolate.
Soybean pretreatment process
The soybean pretreatment process mainly includes raw material cleaning, tempering, peeling, softening and peeling. The process is mainly to remove impurities in the raw materials, and then dry and separate them into soybeans suitable for soybean foil extraction.(Related post: Beans Peeling Equipment >>)

Soybean Pretreatment Process
Low temperature bean foil processing technology
The process mainly includes solvent extraction, low-temperature desolventization, mixed oil evaporation, solvent recovery cycle and waste gas recovery.
Soybean protein isolate production process
Taking advantage of the solubility characteristics of soy protein, the low-temperature defatted soybean meal is soaked in a weakly alkaline aqueous solution to extract the soluble protein, and the pH value of the hydrochloric acid aqueous solution is added to adjust the pH value, and then the separated protein is spray-dried to obtain a powdery soy protein isolate product.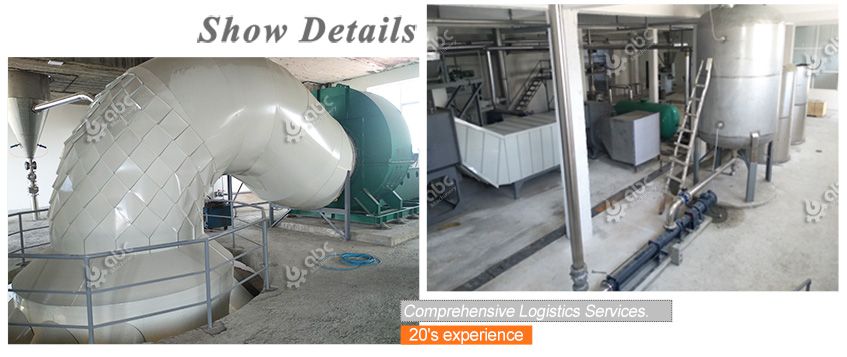 soybean protein isolate production plant
Benefits of the Process of Making Protein from Soybeans
The novel preparation process for improving the stability of soy protein isolate gel invented by ABC Machinery relates to a modified processing technology of soy protein isolate. Firstly, the low-temperature defatted soybean meal is crushed, then the soy protein isolate mother liquor is obtained by alkali-dissolving acid precipitation and other methods, then mixed with polysaccharides and subjected to microwave heat treatment, spray-dried to obtain soybean protein powder, and finally antioxidants are added to the soybean protein isolate powder In, the finished product is obtained. The processing technology is simple, does not require complicated equipment, has a short production cycle, and is easy for industrialized production.
The yield of soybean protein isolate is 30%-40% of the raw material of defatted soybean meal. Compared with protein concentrate, it not only removes soluble sugars, but also removes insoluble glycans. Therefore, soy protein isolate is widely used in the food industry and has broad market prospects. It will be far-sighted to invest in the soy protein isolate processing industry. Relying on the "customer first" concept, ABC Machinery focuses on providing our customers with best-in-class solutions to help your business go smoothly in terms of factory design, processing technology, equipment selection, and high-quality after-sales.(Related post: Soy Protein Isolate Production Line >>)