Soybeans are a great source of plant protein and are often used to replace animal protein in the diet for all ages. Soy is a type of legume that has no cholesterol and is low in saturated fat. Soybeans are the only plant food that contains all eight essential amino acids.Soy protein isolate is about 70% protein, it retains most of the fiber of the original soybean, and is a highly refined or purified form of soy protein. They contain at least 90% protein on a moisture-free basis. Almost all non-protein components are removed from the starting material, defatted soy flour, and finally processed into soy protein isolate.

Soybean Protein Isolate Benefits
Soy protein isolate powder is widely used in food processing and manufacturing. Therefore, many people are optimistic about the application prospects of soybean protein, and have the idea of establishing a soybean protein isolate processing plant. Before that, fully understanding the application and benefits of soybean protein can help you better start your investment plan.

Processing Technology of Soybean Protein Powder
How is soy protein isolate powder processed? Many investors interested in the soy protein processing industry may ask this question.
Soybean protein isolate powder is a production process that extracts soluble protein solution from low-temperature defatted soybean meal with water or lye, and then processes it through acid precipitation, water washing, neutralization, and drying.Soy protein isolate has the highest protein content and is second only to protein isolate in nutritional value, but higher than other soy protein products such as tissue protein.The following is an introduction to the specific production process of soybean protein isolate powder by ABC Machinery.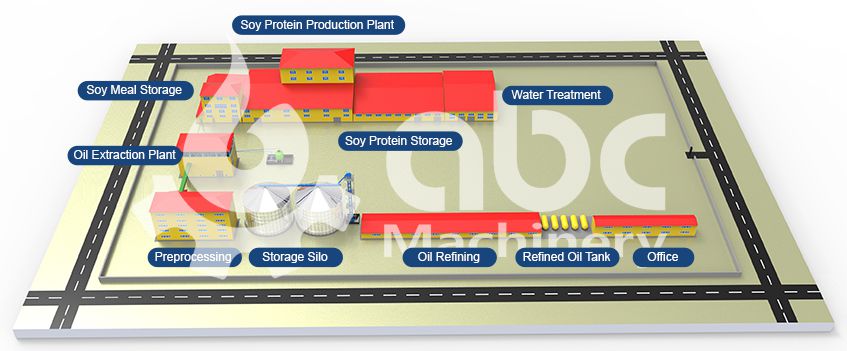 Plant Layout of Soy Protein Isolate Project
Soybean Pretreatment Section
The soybean pretreatment stage includes five processes of cleaning, tempering, peeling, softening, and flaking. The purpose of this stage is to remove impurities in the raw materials and increase the protein content of the soybean foil.
Low Temperature Solvent Extraction Section
The process mainly includes solvent extraction, low temperature desolvation, mixed oil evaporation, solvent recovery cycle and waste gas recovery process. The main purpose of this process is to extract low temperature soybean foil.
Soy Protein Isolate Production Section
The first process is dissolution and extraction. Taking advantage of the solubility properties of soybean protein, the soluble protein is extracted with a weakly alkaline aqueous solution. Then through the acid precipitation process, the precipitated protein gel is separated by centrifugal equipment; the final process is neutralization, homogenization, sterilization and spray drying. The isolated protein is homogenized, sterilized, vacuum flashed, pressurized and then spray-dried to obtain a powdered soybean protein isolate product.
If you plan to open a soybean protein isolate processing plant, or still have some doubts about the specific production process of soybean protein isolate, you can click the button below to tell us your needs, and our engineers will answer your questions patiently.

Uzbekistan 100TPD Soy Protein Isolate Production Project Report


ABC Soybean Preprocessing Equipments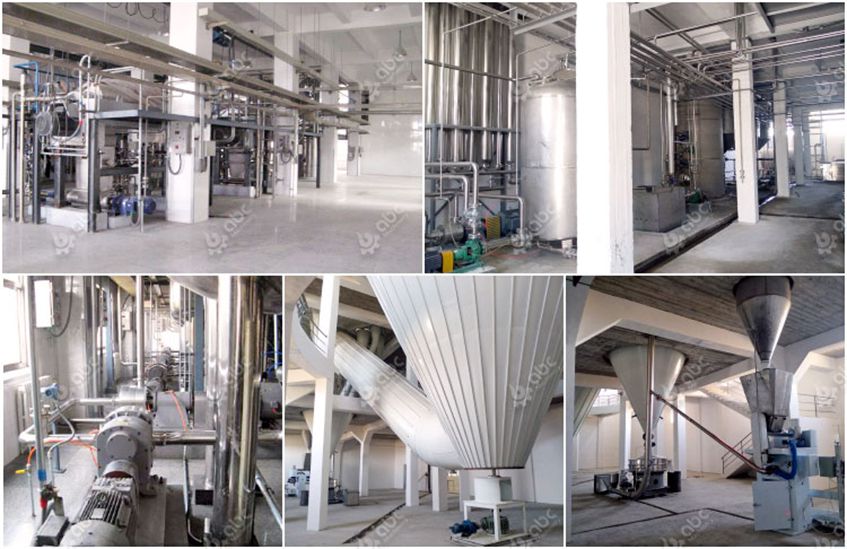 Soy Protein Isolate Production Line
This is a picture of the project site of the 100TPD soybean protein processing plant established by ABC Machinery in Uzbekistan, hoping to provide you with an effective reference. (Project Detail:100TPD Soybean Protein Isolate Plant Project Built In Uzbekistan>>)

What Are the Benefits of Soy Protein Isolate?
Soy protein isolate is the best in soy protein processing to retain the healthy active ingredients of soy. The soybean protein isolate separated by special technology has a complete range of amino acids, and removes the ingredients that are not conducive to absorption and health in soybeans such as inhibitory protein factors and purines. The biological potency is the same as that of eggs and milk, and the quality is better than that of beef. Soy protein isolate is the most essential part of protein processing.
Helps lower cholesterol when combined with a low-fat diet
Has unique sports nutritional value and can be processed into healthy food for athletes and dieters
Promote calcium absorption and utilization, improve bone health
Transport nutrients, balance endocrine
If you're looking for a protein supplement to add to your diet, soy protein isolate is a popular choice with many health benefits. Soy protein isolate has been widely used in the food industry and has broad market prospects. Investing in soy protein isolate is definitely a profitable business.
After years of practice and theory, ABC Machinery has accumulated rich production experience to ensure the stability and practicability of the product. Soy protein isolate processing equipment is exported to Africa, Vietnam, Malaysia, Australia, New Zealand, India and other countries. If you have any questions or needs related to soy protein projects, do not hesitate to contact us!