South Africa is one of the largest producers of maize crops in the world. Maize, also called corn, is consumed as a staple food in South Africa and many other countries like Nigeria, Tanzania, Egypt, Ethiopia, Tanzania, etc. It is processed in the maize flour processing plant where it is converted into maize flour or maize meal. (Related Post: Maize Milling Business Potential in Africa >>)

Start Maize Flour Milling Business in South Africa
As the demand for food in South Africa is growing with time, it is estimated that in a few years maize consumption will be much more than what it is now. Starting a maize flour mill in South Africa has a great possibility to be succeeded. So, if you are planning to set up a maize flour mill in South Africa, here is all that you will need to know.
Cost to Setup a Maize Flour Mill in South Africa
The cost of establishing a maize flour mill in South Africa depends on several factors and maize milling business plan. Some of the common determining factors are: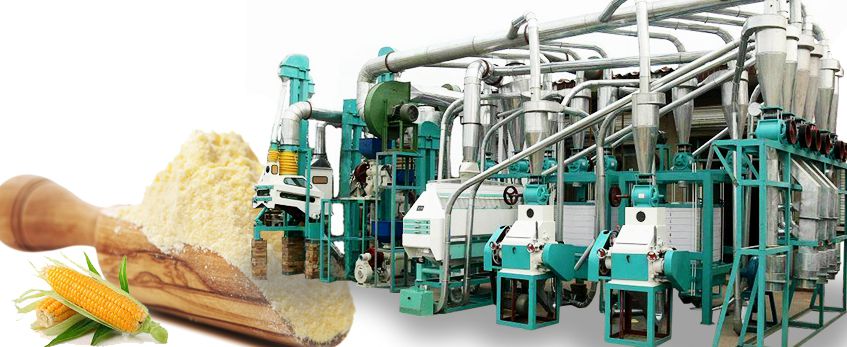 Setup Maize Flour Mill in South Africa
The location and the price or rent of the building you choose.
The type of mill you want to establish (small scale maize flour mill or large scale maize flour mill).
The number of equipment you buy and the manufacturer you buy them from.
Cost of transportation of maize flour to the market and transportation of crops from the suppliers to the mill.
The number of workers you hire.
These elements will affect the whole cost. Generally, the estimated cost to set up a small scale maize milling machine in Africa is from $3,500 and more. And the cost to set up a large scale maize flour mill plant can range from $19,000 to $1,445,000. (Related Post: Cost of Setting up a Flour Mill >>)
Equipment Required to Setup Maize Flour Mill in South Africa
The market is full of variable maize flour mill machines. You will have to buy those that will suit your budget and needs best.
For instance, if you are planning to set up a small scale maize flour mill then you will have to buy a small scale maize flour machine that will be cheaper and smaller in size comparatively. On the other hand, large scale maize flour mill machines are larger, more expensive, and give more yields per hour.
Both kinds of maize flour mill machines consist of different parts that play their own roles during the whole process.


Maize Flour Milling Process
Cleaner to Clean Maize Seeds: When maize seeds come from the suppliers they have dirt and other residues attached to them. To generate high-quality maize flour, they must be removed from the seeds first. There are various grain cleaning equipment to help maize seeds cleaning.
Degerminating Unit to Separate Endospore from Germ and Maize Skin: A maize seed consists of many parts. Each has its own role. The part that is converted into flour is its endosperm. Maize skin and germ are used as animal feed.
Grinder to Convert Seeds into Flour: Now, this is the main part that plays the most crucial role. It grinds the hard seeds and converts them into a fine powder form. The particle size of the flour can vary depending on the consumer's needs.
Packaging Unit: This is the last part of most of the maize flour milling machine. The floor produced is properly packed by flour packaging machine into the bags to be sold in the market.

Maize Flour Mill Machine to South Africa
Small Scale Maize Flour Milling Machine
How to Set Up a Maize Flour Mill in South Africa? Buy High Quality Maize Flour Mill Machinery for Maize Flour Milling: HOT Sale maize flour mill offered by maize flour milling machine manufacturer or supplier, guide on process of maize flour production and how to start maize flour milling business with limited cost in South Africa, Tanzania, Egypt, Morocco, Ghana, South Korea, etc.
Conditions You Must Consider to Start Maize Flour Milling Business in South Africa

Maize Flour Mill Manufacturer
Other important things that you must consider before starting your maize flour mill for your business in South Africa:
The land you select to establish your maize flour mill in South Africa must be close to the maize suppliers (usually farmers) and the market you are planning to sell your flour in. It should be large so that you can create a proper area to store maize flour, keep maize bought from the suppliers, place all of the essential maize flour mill machines, and build one or two small offices.
You must register your business and brand name so that no other company steals your name or sells its products by using your name.
You must have a proper business plan in which you will write your goals regarding this maize flour mill, the investment you want to make, and ideas to increase your credibility in a market that already has many old and experienced sellers.
Establish a good relationship with the suppliers so that you can have continuous and regular supplies at an affordable price. Create a hardworking team of workers who are skilled in using maize flour mill machines.
You must be aware of profit-generating marketing techniques so that you can use them and sell your product in the markets of South Africa as well as in the international markets.
| Vitamin | Unit/100g | Maize, whole | Maize, bran |
| --- | --- | --- | --- |
| Riboflavin | mg | 0.20 | 0.10 |
| Niacin | mg | 3.63 | 2.74 |
| Pantothenic acid | mg | 0.42 | 0.64 |
| Vitamin B6 | mg | 0.62 | 0.15 |