Nigeria leads the world in the production of many crops. Cassava has an annual output of 40 million tons, the highest in the world. In recent years, the Nigerian government has invested heavily in agriculture in an effort to achieve self-sufficiency in rice and wheat. So, there is a very good prospect of starting flour production business in Nigeria. (Read more: Flour Mill Business Plan >>)


Start Wheat Rice Cassava Milling Business in Nigeria
Food processing often can at no time be out of business. That is because there is a huge customer base, not only in Nigeria but also in other countries. The presence of a huge population is one of the main advantages of setting up flour mill production plant in Nigeria.
Setup Flour Mill Plant in Nigeria for Business
Flour mill plant represents a lucrative investment opportunity in the food processing industry. A flour mill business consists of processing grains or agricultural produce into flours. There are indeed many foods that get processed into flour and wheat, plantain, yam and corn/maize flour milling remains popular. And there are a number of food production processes such as pastries and bakeries which employ the use of flour as a major raw material. (Read more: Cost and Equipment to Setup Maize Flour Mill Plant in South Africa >> )

Apart from the population factor that was mentioned above, the presence of locally grown agricultural produce is also equally important for the sucess of setting up commercial flour mill in Nigeria. For each of the possible flour milling business, it is important to note that you can start the business on a small scale or at a large scale. That would be heavily influenced by your management ability, the presence of enough capital and of course, the prevailing demand among other factors.

Total Cost of Setting up a Flour Mill in Nigeria

The cost of setting up a flour mill in Nigeria will depend on a number of factors. These factors include the quality and quantity of flour processing machines, the flour processing capacity, and suppliers of raw materials among others. The startup cost of a flour milling factory, such as wheat flour milling can be as high as $ 60,000 and above or even less, to suit the budget of the investor. (Read more: Buy Wheat Flour Machine >>)
There are many ways to reduce the investment cost of building a complete flour mill plant in Nigeria. For example, one great way that is recommended to reduce the cost of raw materials is by having the factory's own plantation. In such a way, the cost of raw materials will be reduced by more than 30%.
BEST Flour Mill Machine Manufacturer or Supplier in Nigeria
ABC Machinery is a high-tech enterprise that is mainly specialized in grain processing machinery development, production and sales. We mainly produce wheat processing equipment, corn processing machine, rice mill equipment, including complete sets of equipment and single machine. We are the leading flour mill machine manufacturer in China. Our equipment is mainly exported to Asia, America, Africa and other regions.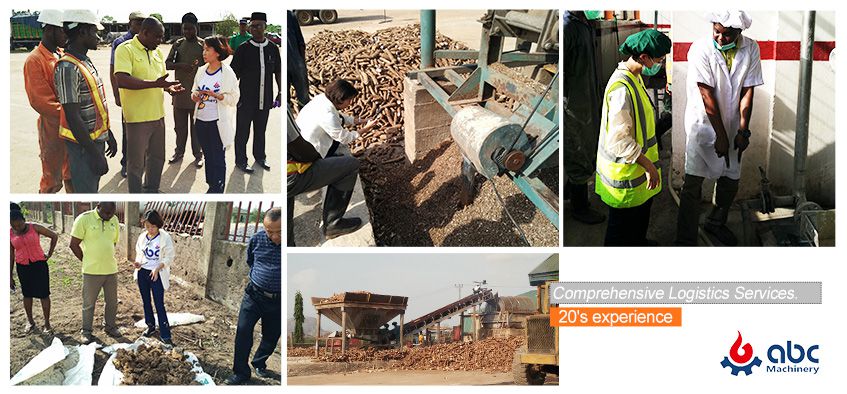 Visiting Clients in Nigeria
We have built a lot of food processing plants in Nigeria. Every year, our team will go to Nigeria to visit our Nigerian customers and get know their needs so as to better serve them. Welcome to contact to get the machine parameters and price list!
Buy Mini/Small Wheat Flour Milling Machine to Nigeria
How to start flour mill business in Nigeria? – buy high quality flour processing machine for maize wheat cassava flour making: HOT Sale flour mill factory offered by flour making machine manufacturer or supplier, guide on process of wheat and cassava flour production and how to start flour mill business with limited cost in Nigeria, Tanzania, Egypt, Morocco, Ghana, South Korea, etc.
How to Start Flour Business in Nigeria?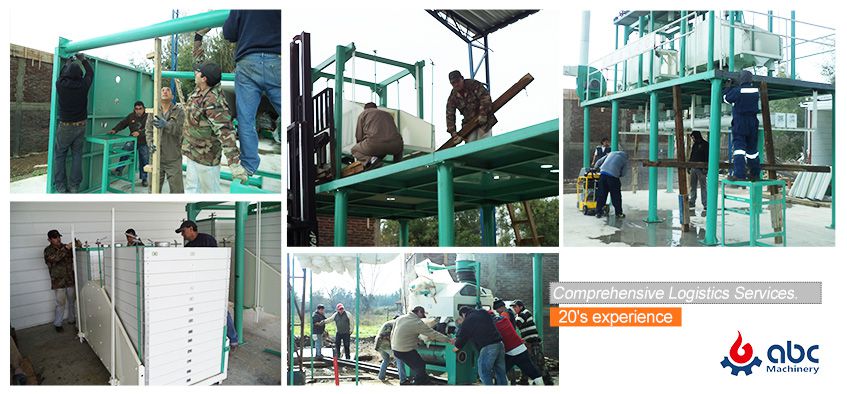 Setup Flour Mill Plant in Nigeria
Have a Sound Business Plan
First, you must do a proper research about the flour mill industry and then come up with a proper business plan for the successful running of wheat flour processing plant, corn processing plant, or other grain processing plant. Through your business plan, you should be in a position to identify your source of funds, expenses incurred and the main goal of the business among other things. With a great business plan, if your flour mill runs into operation problems, then you will be in a much better place to resolve the problem without delays. Delays in operations of the business can negatively affect the profit in flour mill business.
The amount of capital you have will determine the size of flour mill factory and flour mill machinery used. Because of the cost of setting up a flour mill, especially large flour mill, you may be limited in terms of personal finances for financing the operation of the mill. The other common option that exists is getting a business loan. There are a number of financial institutions like banks and cooperative societies that offer a business loan. Your business plan will greatly determine whether you will be able to get a business loan (and the amount) or not. For that reason, the business plan that you present must be well-drafted and convincing.
Location of Your Flour Mill Factory
For a flour milling business, you must be near your competitors. Additionally, you must be close raw materials and high population like in Nigeria. The high population not only offers you the necessary and cheap labor, but also offers you the much needed huge customer base. If you are far from raw materials that mean you will incur heavy expenses in the transportation.
Registrations and Approvals
For your business operations to be protected by the law, you must register your flour milling company and get necessary business permits and license.
Buying of Equipment & Hiring Employees
There are a number of flour mill plant manufacturers which you can buy your flour mill equipment. Make sure you get the best value for your money. You can request the dealers of these machines to give you a price quote. When you have set up your factory, the next step is to hire qualified and experienced staff capable of operating the machines of the flour mill.


Flour Mill Machines for Sale
Marketing of Your Business
Prudent marketing strategies and techniques must be adopted to promote the product to potential customers. Online marketing must be adopted.
Main Grains Production in Nigeria
| Grains | Maize | Millet | Guinea corn | Yam | Cassava | Rice, paddy |
| --- | --- | --- | --- | --- | --- | --- |
| 2016 | 764,678 tons | 1,468,668 tons | 6,939,335 tons | 44,109,615 tons | 57,134,478 tons | 6,070,813 tons |