Introduction
A small flour milling machine is an important tool necessary for cleaning and grinding cereals such as wheat, soy, or maize into the final well refined flour ready for consumption. An effective small flour milling machine should be easy to operate, power efficient as well as able to produce high quality flour to your preferred fineness.
There are different types of small flour milling machines. They differ on the design as well as how they are powered. Some of the most important aspects that you should consider before buying a small milling machine include capacity, source of power which can be electrical motor, fuel engine, manual, and the cost.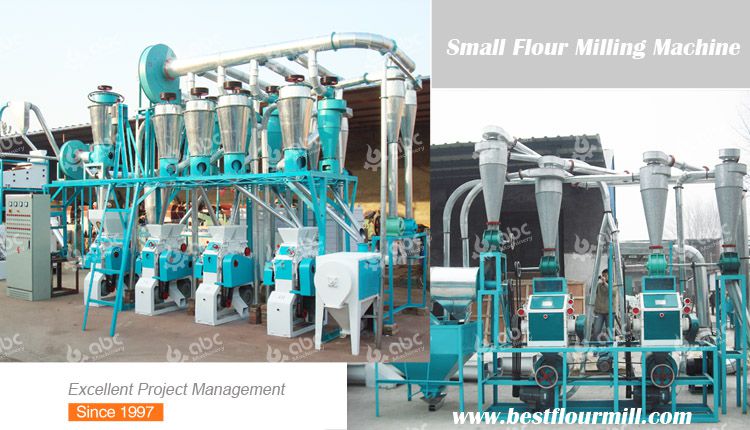 Small flour milling machine application
An ideal small flour milling machine should be able to perform the following functions.
1. Remove dirt effectively
In order to have high quality end product that can be cooked and well enjoyed by the consumer, the milling machine should be able to remove dirt from the cereals before it is ground. Some of the common dirt that should be removed by this machine includes hull, soil, sand, stone, and iron. These dirt usually come in contact with the cereal during harvesting. The small particles of iron in particular come from the machines used to harvest and remove the husks.

2. Peeling
The modern state-of-the-art small flour milling machines should be able to effectively peel the cereals before milling. Besides it is designed to get rid of corn germ, remove black hilum and root. Subsequently it should sort and peel corns into different sizes. Sorting out corn is an important activity as it helps in establishing the final grade.

3. Grind cereals
Once the cereal has been cleaned and peeled, then it can be ground. Small milling machines are designed to grind cereals into different sizes based on your preferred sizes. How do you achieve a given preferred fineness? Well, the machine comes with sieves that can be adjusted to control the level of fineness. The mills are also fitted with sifting as well as scouring techniques.

4. Mix ingredients and packaging.
You can use the small flour milling machine to mix different ingredients in different ratios to attain healthy high quality flour. The latest models are also equipped with the ability to package the floor.

Advantages of using a small flour milling machinery
Small milling machine has the advantage as you can start a long term milling investment. This is because you can easily control the amount of inputs and even better establish reliable distribution lines. Another outstanding advantage of Small flour milling machines is that they have all the units and components necessary to produce high quality floor as large processing mills but are not labour intensive and run on significantly low amounts of power. Besides, you can strictly control the ingredients of each unit so as to have final high quality flour that is healthy for consumption. Finally, the small flour milling machines are affordable, come with warranty, durable, and are of high quality.

Buying small flour milling machine for profit making purposes
A small flour milling machine can be a highly profitable machine. You can own one of these machines if you are in a place where you can easily access a steady flow of cereals. Equally, you should check on the demand and availability of the market of flour as well as an effective channel of distribution. Finally a small milling machine would require a reliable workforce that can help you hit your investments target.

In conclusion, a small flour milling machine should clean, peel, grind, and package your flour. Besides, it should have a reasonably good production capacity that can adequately satisfy the demands of your target market.