Mini flour mill machines are heavy duty grinding machines that take wheat, red wheat, gram or even spices in some cases, and grind it to produce fine powdered flour, which is sent for processing and packaging.
Engineers have designed the mini flour mill machine keeping in mind the ever growing demand of flour production in the global market. Their aim was to create the most efficient heavy duty machine within affordable price and less wastage of power and electricity. The mini flour mill machine is a highly efficient and low power consumption heavy duty machine which is used to grind wheat, barley, rice, spices, corn and gram of any texture. It works well for both soft and hard crops.
The different stages to process wheat with mini flour mill machine:
1. Cleaning part:
The raw material is cleaned by washing and drying.
Beating: This is the most common method that separates the raw material from impurities and stones.
Screening: Screening can be of two types: for coarse and fine. The mini flour mill machine is used for screening fine raw material.
Destoner: The destoner removes all the stones after screening that comes in with the raw material.
Magnetic Separator: It uses a mining iron as a magnet to separate all the susceptible particles from the lot.
Dampening: It removes all the moisture from cleaned wheat and prepares it for further processing.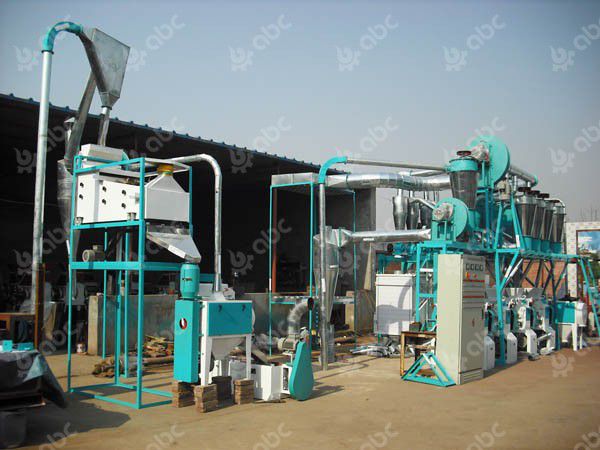 2. Flour making part:
This is the main objective and function of the mini flour mill machine.
Milling: In this method we see that the cleaned wheat is given as input in a milling machine which uses roller blades to separate the quantity of wheat from the surface and bottom.
Sifting: It further removes large chunks of impurities from the flour.
Grinding: The flour is finally grinded and processed into fine usable and ready to sell flour.
Packing: The processed wheat is sent to the packing unit which could be done manually or by installing a small unit to do it automatically.
Benefits of mini flour mill machine
It has many benefits as it is not a conventional method. It is easy to install and use it at home or a small workplace. It saves a lot of space as the objective of its design was to save space and make it efficient and user friendly to implement and set up. It uses very detailed and precise engineering parts that make the production even higher. The engineers have given a very rational approach so that even any person can handle and operate it. It is designed in a way that ensures minimum power consumption and can save up a lot of electricity. Most companies that manufacture mini flour mill machines offer one year guarantee to offer their services and keep the customers happy.
The application of mini flour mill machine is very simple and user friendly. It has a huge demand in countries with flour as staple food.