Mini flour mill machines are heavy duty grains grinding machines that take wheat, red wheat, gram or even spices in some cases, and grind it to produce fine powdered flour, which is sent for further flour mill process and packaging.Mini Flour Mill Machine is designed to meet the ever growing demand of flour production in the global market. It is the most efficient heavy duty flour mill equipment with affordable price and less wastage of power and electricity. It can be used to grind wheat, barley, rice, spices, corn/maize, and gram of any texture. It works well for both soft and hard crops. (Read more: Commercial Flour Mill for Sale >>)


Mini Flour Mill Machine for Home
In the actual purchase of suitable flour processing equipment to start a flour milling business, if you do not know how to choose flour mill machine with low cost, you can contact ABC Machinery. Our staff will not only understand the customer's raw materials, but also design a suitable flour mill business plan based on the customer's personal needs and other issues, so that the customer can purchase the appropriate flour milling equipment to process wheat, maize, rice and other raw materials.

The Trend and Benefits of Mini Flour Mill Plant for Home or Business Use
Flour processing machines can be divided into small flour mills, medium flour mills and large flour production lines according to their output. Small flour mills are a relatively common one, which has the advantages of stable quality, high production efficiency, good energy-saving effects and low processing costs. It is deeply loved by small and medium-sized flour mills and households. Using the mini flour machine to produce processed wheat flour or corn flour, the quality and quality of flour are relatively stable. ABC Machinery will share with you the knowledge about the development trend and benefits of mini flour mill machines , so that investors who want to build small flour mills have a deep understanding of the flour mill business.
The development trend of mini flour mill machine
Intensified market competition has caused enterprises to focus on the production efficiency of mini flour mill equipment. The improvement of production efficiency can bring more benefits to enterprises.
The control system adopts automation, which can not only ensure the flow of the production process, reduce the labor intensity of the operators, but also ensure the accuracy and real-time feedback of the production process, improve product quality, and reduce equipment failure rate.
The structure design of small flour machinery equipment is more reasonable, more compact, and more in line with ergonomic principles, thereby reducing manufacturing costs, reducing floor space and improving labor efficiency.
With the continuous development of production technology, enterprises have completed more and more functions of small flour machinery and equipment. This requires continuous upgrading of mini flour mill equipment to meet the diverse needs of business.
The benefits of mini flour mill machine
Mini flour machines have many benefits for users, so it has been widely used at home or a small flour mill factory for wheat or corn/maize flour production. It has been regarded as the BEST small flour mill for home use.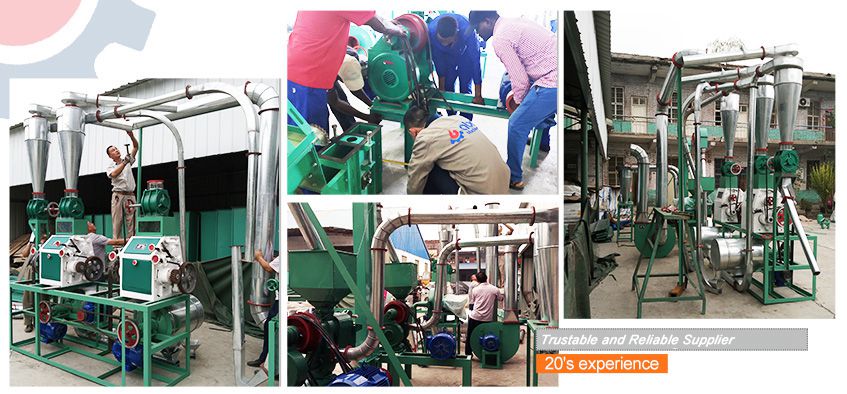 Buy Mini Flour Mill Machine
It saves a lot of space as the objective of its design was to save space and make it efficient and user friendly to implement and set up. It uses very detailed and precise engineering parts that make the production even higher. (Related post: Small Maize Flour Milling Machine Prices >>)
It has been given a very rational design, so any person can handle and operate it easily. It is designed in a way that ensures minimum power consumption and can save up a lot of electricity. Most small flour mill machine manufactures will offer one year guarantee to offer their services and keep the customers satisfied. (Related post: Mini Wheat Flour Mill Plant for Sale >>)
The application of mini flour mill machine is very simple and user friendly. It has a huge demand in countries with flour as staple food, like Kenya, Chile, Nigeria, Pakistan, China, Russia, etc. And it will help to lower the cost of setting up a flour mill.
HOT Sale mini flour mill machine offered by ABC Machinery manufacturer or supplier, Guide on process of wheat/maize flour production and How to start profitable business with limited cost in India, Kazakhstan ,Tadzhikistan, Sri Lanka,Indonesia, Saudi Arabia, etc. at low cost. Knowing the latest mini flour mill price, just click below button to message us your requirements and get corresponding quotations quickly!

Different Stages to Process Wheat with Small Flour Mill Sachine
Small-scale flour milling process and its characteristics, system settings and the role of each system, only flexible operation can achieve the best flour milling effect, with relevant theoretical knowledge, combined with actual production, familiar with the process flow, it can effectively improve the operation skills of staff, and lay a good foundation for the operation of flour mill machine and the whole production.
Cleaning Part of Wheat
The raw material is cleaned by washing and drying.


Small Flour Mill Plant Cleaning Equipment
The process of cleaning raw material
| | |
| --- | --- |
| Beating | This is the most common method that separates the raw material from impurities and stones |
| Screening | Screening can be of two types: for coarse and fine. The mini flour mill machine is used for screening fine raw material |
| Destoner | The destoner removes all the stones after screening that comes in with the raw material |
| Magnetic Separator | It uses a mining iron as a magnet to separate all the susceptible particles from the lot |
| Dampening | It removes all the moisture from cleaned wheat and prepares it for further processing. |
Flour Making Part of Wheat Flour
This is the main objective and function of the mini flour mill machine.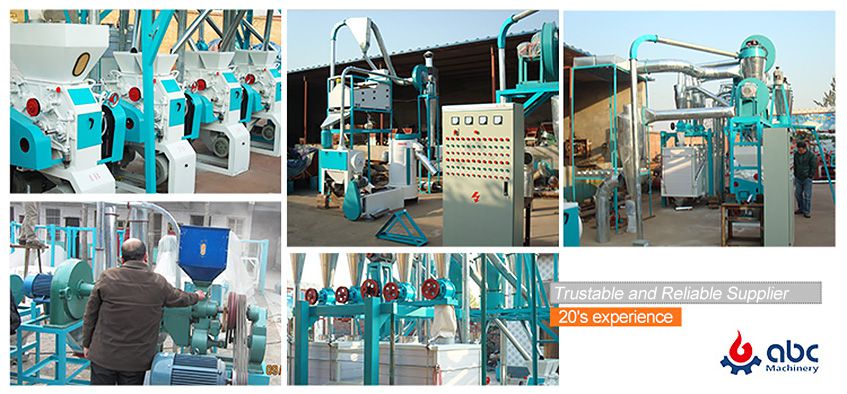 Mini Wheat Flour Mill Machine
The process of wheat flour production
| | |
| --- | --- |
| Milling | In this method we see that the cleaned wheat is given as input in a wheat milling machine which uses roller blades to separate the quantity of wheat from the surface and bottom. (Related project: 30TPD Wheat Flour Mill Project Setup in Chile >>) |
| Sifting | It further removes large chunks of impurities from the flour |
| Grinding | The flour is finally grinded and processed into fine usable and ready to sell flour |
| Packing | The processed wheat is sent to the packing unit which could be done manually or by installing a small unit to do it automatically. |

Buy Mini Flour Mill Machine from ABC Machinery
Video of Mini Flour Mill Machine Plant By ABC Machinery
High efficient mini flour mill machine – factory price mini flour mill plant for home or business use: buy mini flour mill machine from small flour mill machine manufacturer or supplier at factory price, get FREE technical instruction of flour milling process and business plan to set up complete mini flour mill project in Kyrgyzstan, Pakistan, Bangladesh, Uzbekistan, Saudi Arabia, etc., at low cost.
Other Flour Mill Plant Machinery Provided by ABC Machinery

Start a Small Wheat/Maize Milling Business
The capacity of different flour raw materials
| Grains | Capacity |
| --- | --- |
| Wheat | 10~500TPD |
| Corn/Maize | 5~200TPD |
| Other Grains (Rice/Cassava, Beans) | Customized |
The above are the development prospects and benefits of small flour mills analyzed by ABC Machinery based on professional experience for customers. When customers really start flour mills for business or home use, they must also consider various issues such as construction costs. If you want to start a flour mill factory or need to purchase flour mill equipment for the processing plant, you can contact ABC Machinery, and hope that we can help your flour mill business!
We have established a flour mill in India (Gujarat) with a capacity of 100 tons. The feed material used will be elephant grass. I want to know how to produce high-quality wheat flour. Our staff do not know much about the flour processing process, which leads to little nutrient loss in the flour produced, but the processing accuracy is not high. Please may you give me the method about how to improve the quality of flour products? Thank you.
Hello, customer. The common processing technology of wheat flour machine is to take the wheat flour process after peeling. After the dehulling, the wheat is made into flour with high processing precision. The finished wheat flour has uniform grains and good appearance. It currently occupies the main market. It can be used in the processing equipment of wheat, corn, grains and other flour. In addition, before the production and processing of the flour machine, the equipment should be kept clean and tidy, especially the grinding cavity is clean and tidy. This can not only improve the production efficiency, but also find the potential problems of the wheat flour machine before the equipment starts operation. And equipment safety has a high preventive effect. In the process of operating the wheat flour machine, you can fine-tune the equipment parameters. Through the fine-tuning of the equipment parameters, you can compare the quality of milled flour under different parameters. Through long-term accumulation, I believe you can quickly produce high-quality flour.