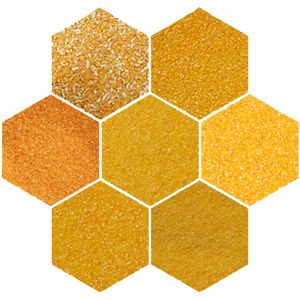 Maize grits is a kind of high nutrition food made from maize (corn). They are smaller than rice grains in light yellow color; they have good swelling and water absorbing performance. Their nutritional components are higher than rice: maize contains large amount of magnesium, which can promote the excretion of body wastes and inhibit the formation and development of cancer cells; maize is also rich in anticancer element selenium (Se), vitamins, coarse fibers, ZN, etc. to accelerate the peroxide decomposition in the body.
In some developed countries, maize is regarded as a kind of modern health food and even "Gold Food", for example, almost 30% of the one thousand kinds of health food in USA use maize as raw material: they make maize into convenient food. In recent years, maize food is quite popular in world market.
Maize grits are traditional source of hominy in Native American dishes. In the past they were processed by stone mill. But in modern time, with the development of machinery, people would rather use maize grit processing machine to make grits.
Now maize grits processing plant has been established in different countries and areas to produce maize grits and supply local market. Now let's learn the technology together.
Maize grits processing technology

Cleaning
To screen out the iron nails, gravels, sands, straw, and other impurities.
Water spraying and stirring
Feed the clean maize grains into the stirring machine, the water spray machine sprays adequate amount of water into maize, and at the same time stirs 5-10mins in low speed to make the water penetrate evenly. The dampening quantity before peeling is required to be 1.5%-2%; the dampening time shall be 40-60mins to make the maize water content to 16%-18%, so that the tenacity of maize skin and germ will be increased.
Peeling and degerming
After peeling and degerming, maize skin and germ are separated from the endosperm.
Grits processing
Clean maize particles (endosperm) enter maize grits grinding machine, while the maize germ can be used to produce corn germ oil, and the skin can be used to make animal feed.
Separating
Having been grinded, maize grinds and powder mixture shall be screened and separated. The separated particle maize is qualified grits, while the powder is good raw material for making starch or maltose.
Drying
After all the above processes, maize grits are delivered into heat drying machine. under <100℃, maize grits are dried to moisture content around 14% for better storage.
As a kind of healthy food, maize is one of the main grains in USA, Canada, Mexico, South Africa, Kenya and other African countries, and also Asia. As a result, establishing maize grits processing plants is regarded as a promising business. So if you are also planning to set up one, just feel free to contact KMEC!