Maize grit is a kind of high nutrition food made from maize (corn) produced by maize grits processing machinery. In some developed countries, maize is regarded as a kind of modern health food and even "Gold Food", for example, maize grits are traditional source of hominy in Native American dishes, and almost 30% of the one thousand kinds of health food in USA use maize as raw material. In recent years, maize food is quite popular in world market. (Read more: How to Make Maize Flour?)


Advanced Maize Grits Manufacturing for Business
In the past they were processed by stone mill. But in modern time, with the development of machinery, buying maize grits production machines becomes the favorite way of people to make grits, especially for maize milling business. Now maize grits processing plant has been setup in different countries and areas to produce maize grits and supply local market. Now let's learn the maize grits processing technology together.
Efficient Maize Grits Processing Technology
Maize grits production is completed by professional maize processing machinery or in maize grit processing plant. It involves a series of steps that can greatly improve the quality of maize grits and the efficiency of maize processing plant. (Read more: Cost of Setting up A Maize Mill >>)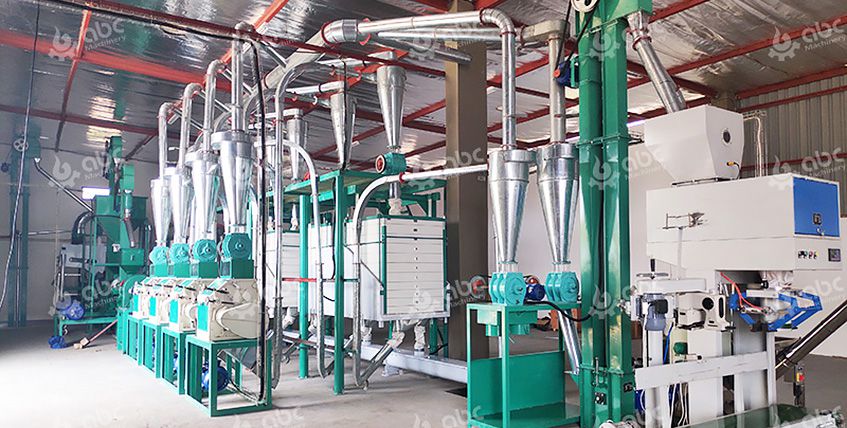 Maize Grits Processing Plant
Use grain cleaning equipment to screen out the iron nails, gravels, sands, straw, and other impurities.
Water Spraying and Stirring
Feed the clean maize grains into the stirring machine, the water spray machine sprays adequate amount of water into maize, and at the same time stirs 5-10mins in low speed to make the water penetrate evenly. The dampening quantity before peeling is required to be 1.5%-2%; the dampening time shall be 40-60mins to make the maize water content to 16%-18%, so that the tenacity of maize skin and germ will be increased.
After peeling and degerming, maize skin and germ are separated from the endosperm.


Maize Grits Production Process Flow Chart
Clean maize particles (endosperm) enter maize grits making machine, while the maize germ can be used to produce corn germ oil, and the skin can be used to make animal feed. (Read more: Maize Milling Machine Suppliers >>)
Having been grinded, maize grinds and powder mixture shall be screened and separated. The separated particle maize is qualified grits, while the powder is good raw material for making starch or maltose. (Read more: Maize Starch Plant Machinery >>)
After all the above processes, maize grits are delivered into heat drying machine. under <100℃, maize grits are dried to moisture content around 14% for better storage.


Maize Grits Processing Machine

As a kind of healthy food, maize is one of the main grains in USA, Canada, Mexico, South Africa, Kenya and other African countries, and also Asia. As a result, establishing maize grits processing plants is regarded as a promising business. If you are also planning to set up one, just feel free to contact ABC Machinery!
How to Build Maize Grits Processing Plant?

Low Cost Maize Grits Processing Plant
Find the Suitable Location for Your Factory
For the maize milling business, a suitable location matters a lot. Factors you must consider when you looking for a place are: power supply, safety, transportation cost saving, the good storage capacity, a packaging flour area, and enough room for maize grits production machines, etc. (Read more: Small Scale Maize Milling Machine >>)
Have Your Business Registered
After factory location, identify the name of your company and its products to get your company registered with the local government or government. Registering your cornmeal manufacturing business will make it more reliable to your suppliers and purchasers. Additionally, you will have peace of mind knowing that your milling business complies with local regulations.
Get Reliable Raw Material Suppliers
When you are planning to buy maize from a supplier, make sure that the supplier is reliable to preventing being cheated by a fraud. And the raw material location had better be close to your factory position to reduce the transportation cost.
Buy Suitable Maize Flour Production Machinery
Maize grits machinery plays a very important role in starting flour mill factory. Before buying machinery, make sure your production capacity first, and then finding a reliable machinery manufacturer or supplier who manufactures high quality maize grits machine and have ability of building the plant based on your actual requirement and condition.

Maize Grits Processing Machinery for Sales
How to setup efficient maize grits processing plant? – buy high quality maize grits production machinery for maize grits making: HOT sale maize grit processing plant offered by maize grits production machinery manufacturer or supplier, guide on process of maize grits production and how to start maize grits making business with limited cost in Tanzania, Egypt, Morocco, Ghana, South Korea, etc.
Some of Other Grain Milling Plants
Grain
Specification

Maize /Corn
10-100ton/D Maize Milling Plant
100-200ton/D Corn Mill Machine


Wheat
10-30ton/D Wheat Milling Machine Plant
30-60ton/D Wheat Flour Machine
60-150ton/D Wheat Flour Milling Machine