Location: N'djamena City, Chad
Capacity: 30 tons per day
Design Highlights: Can be expanded to large scale
Raw Materials: Maize
Final Product: 60 Mesh Maize Flour
Main Equipment: Vibrating Screen, Stone Removal Machine, Fan, Suction Duct, Peeling Machine, Polishing Machine, Grinding Machine, Plansifter, etc.
Main Process: Cleaning, Striping, Degerm, Separation, Milling, Separation, etc.
Installation Period: 22 days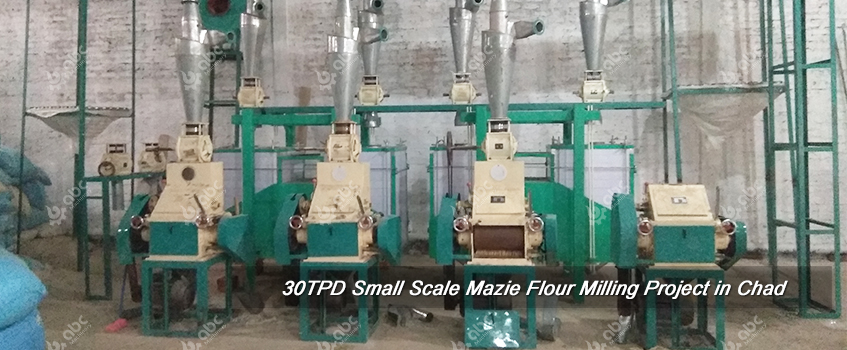 Commercial Small Maize Flour Milling Mahcine for Sales

30TPD Corn/Maize Flour Milling Plant Project Report
This complete maize flour milling plant was completed sucessfully after the purchase four years later. When all the equipment were arrived, our client required to delay the installation process. Therefore, when he asked to restart this maize flour milling project, we soon send our professional engineers to Chad and hoped to help finish this project. However, there were many problems on site, like some spare parts lost, equipment corrosion, etc. Forunately, we have taken all these into consideration and our experienced engineers solved all the problems perfectly and helped our client to successfully intalled and commissioned this maize flour milling plant. (Related post: Cost of Starting a Maize Milling Business in Kenya >>)
Belows are the onsite installation pictures.

Maize Flour Milling Plant for Sales - ABC Machinery
Capacity
Power
Power Consumption
Factory Size

20TPD

72 KW

58~60 KW/H
Linear Structure
20*5*5 M3
Steel-frame Structure

16*5*6 M3


30TPD

108 KW

58~60 KW/H
Linear Structure
24*5*5 M3
Steel-frame Structure
30*5*5 M3
50TPD
172 KW
56~58 KW/H
Steel-frame Structure
35*5*7 M3
100TPD
346 KW
56~58 KW/H
Steel-frame Structure
40*7*8 M3
Your may also like Factory Price Small Scale Wheat Flour Milling Machine >>
Superiority of Complete Maize Flour Milling Plant in Chad
After installation and commission, this whole maize flour milling factory could start to product maize flour normally. Only one or two workers can deal with all the daily maize flour production. It is also cost saving flour milling machine due to the stable performance, easy operation and less maintenance. Its automation level didn't requied too much labors.
"We are able to make a break-even point within 3 months." our client told us.

Partically, the design of maize flour milling plant reserved space for expansion and it could expand production to 50~60 tons per day, which settled the concerns for investors who wanted to expand the capacity in the later stage and provided more possibility for cash flow.
Profitable Business in Chad: Maize Flour Milling
With the increasing of people's living standard, there are also increasing demand for maize flour, from 40 mesh to 200 mesh. But now maize flour in Chad's market is imported from Cameroon. Therefore, setting up a maize flour milling factory in Chad to produce high quality maize flour would be very popular and can be sold well in Chad. (Read more: Flour Mill Plant Cost >>)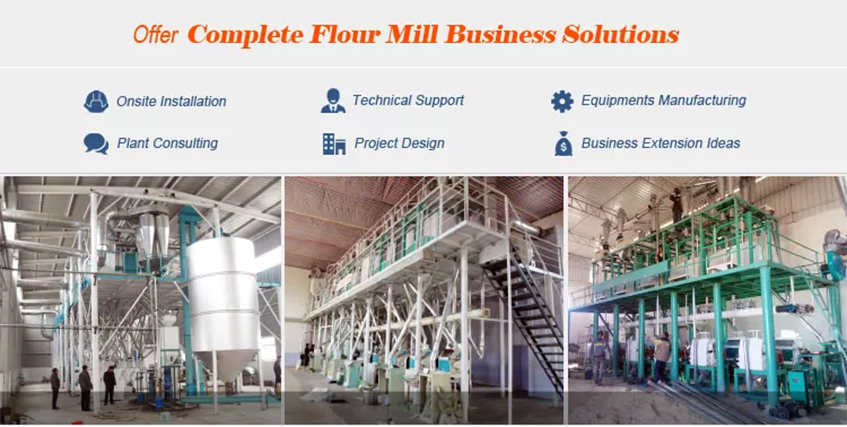 Your Reliable Maize Flour Milling Plant Supplier - ABC Machinery
If you are considering investing maize flour milling business in Chad, ABC Machinery would be your great partner to provide you with complete factory design and equipment selection so as to lower the cost and improve the production efficiency. And our maize flour milling machine and wheat flour milling machine have been exported to many countries in Africa, welcome to contact us to get the latest price list.