Wide Use of Cassava Starch


Start Your Own Cassava Starch Processing Business
Cassava starch is mainly used as raw materials in food, sugar, medicine, feed, textile, papermaking, chemical and other industrial sectors. The cassava starch production process is the physical separation process: the starch is separated from the cellulose, proteins, inorganic and other substances in the cassava. In the process of cassava starch processing, starch is separated from water suspension by water and special machinery according to the property that starch is insoluble in cold water and its specific gravity is greater than water, so as to achieve the purpose of recovering starch. (Related Post: Cost of Setting up a Flour Mill >>)
Requirements of Raw Materials for Cassava Starch Processing
The raw materials for cassava starch includes fresh cassava and cassava stem. They are the main materials for cassava start processing, so the raw materials should be of high quality, fresh. It is best to buy the cassava and immediately send to the factory at each day, and process the wood part and other mixed wood part that is no mud, no sand, no root. Cassava dry slice requirements are dry, not mold, not deterioration, no damages by worms.


Cassava (left), Dried Cassava Chips (right)
| Average Composition of Fresh Cassava | Values | Average Composition of Tapioca Slice | Values | Ingredients (only for Trapica Slice) | Values |
| --- | --- | --- | --- | --- | --- |
| Starch | 27% | Starch | 68% | sulfuric acid | 2kg/t |
| Cellulose | 4% | Cellulose | 8% | Bleaching powder | 0.5kg/t |
| Protein | 1% | Protein | 3% | Potassium Permanganate | 0.1kg/t |
| Water | 65% | Water | 13% | | |
| Other | 3% | Other | 8% | | |
Note: due to the variety of cassava, harvest time, natural conditions, and production level, the starch content of the raw material will vary.
Cassava Starch Production Machine and Process


Complete Cassaca Starch ( Tapioca) Production Plant
Different flour milling process, cassava starch processing is relatively complicated. The detailed cassava starch production process and process is followed as below.
Raw Materials Preparation
The raw materials are the basics of the cassava starch production line and the quality of raw materials will decide the quality of final produced cassava starch. Therefore, above mentioned raw materials requirements should strictly follow.
The fresh cassava is conveyed to the factory for cleaning and peeling. The raw material rotates and rolls along with the cylinder wall, spraying, washing, bathing, grinding, cleaning and peeling with water as the medium. The purpose is to remove all the silt and the peeling rate will up to 80%. Then, it will be transported to shatter section. Main Equipment : Bel Conveyor, Peeling Washing Machine and Rolling Bucket Washer.
This process is to destroy the structure of cassava, which allows the tiny starch particles to break up and separate from the roots. Main Equipment: Hammer Crusher, Knife-type Crusher.
Plasm and Dregs Separating
The purpose of separation is to separate insoluble proteins and residual soluble proteins and other impurities from starch whey, so as to achieve the purpose of washing, refining and concentration of starch milk. Main Equipment: Vertical Type Centrifugal Screen and Pressure Sieve; If need extrude starch residue, add Starch Residue Extruder
According to the principle of specific gravity separation, the starch whey is pumped into the whirlpool by pressure pump, the bottom flow is removed from the sand, and the top flow through the pulp to achieve the purpose of sand removal. Dessander is use to complete this process.
This process usaully adopts Concentration, Purified Hydrocyclone Assembly to complete it.
After the separation and purification process, the concentrated whey still contains a lot of water, so it must be dehydrated to facilitate drying. The equipment is Vacuum Dehydrator.
By drying, the water content of starch product is about 13.5%. The equipment is Air Stream Dryer.
Starch Packing and Stock for Sale
The produced starch should packed directly and timely stored for sale. Automatic packaging machine is widely used in this section.
Top 10 Cassava Production Countries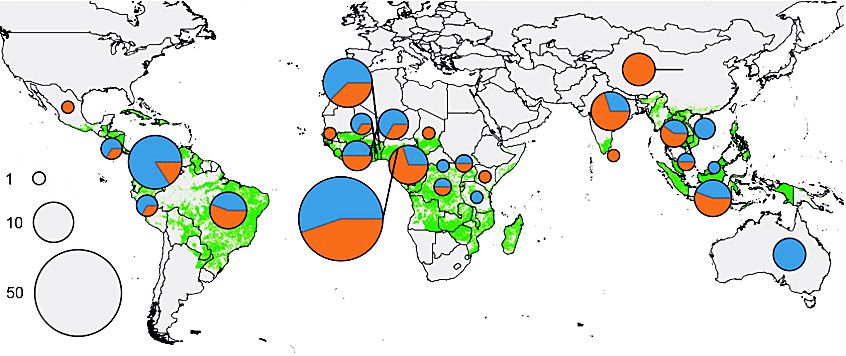 World Cassava Production Market
| Rank | Country | Capacity | Rank | Country | Capacity |
| --- | --- | --- | --- | --- | --- |
| No.1 | Nigeria | 47,406,770 tons | No.6 | Ghana | 15,989,940 tons |
| No.2 | Thailand | 30,227,542 tons | No.7 | Democratic Republic of the Congo | 14,611,911 tons |
| No.3 | Indonesia | 23,936,920 tons | No.8 | Viet Nam | 9,757,681 tons |
| No.4 | Brazil | 21,484,218 tons | No.9 | Cambodia | 7,572,344 tons |
| No.5 | Angola | 16,411,674 tons | No.10 | India | 7,236,600 tons |

Nigerian Cassava Production Factory - Customer Visits
The cassava starch is a profitable investment project, ABC Machinery can provide complete set of cassava starch processing machine. We have professonal technical team which has been in cassava processing for many years. If you are interested in it, please feel free contact us to get project report and FREE quotation.
Video: Cassava Starch Production Factory Layout Design
View the video below to have a look at the equipment layout of complete cassava starch production factory. If you are interested to get more about cassava processing, manufacturing cassava starch or want to know more about machinery price and project cost details, welcome to contact us!