Most of the fast foods we eat today come from flour. You will agree that we have various kinds of flour and each composition depends on the kind of raw products mixed to create it. Each of these kinds of flours has distinctive applications in the current market. The production of flour should rely on the Flour Mill Machine. ABC Machinery serves to provide high quality and factory price flour mill machinery for our customers to help them get benefits.


Wheat Flour Demands
The nutritional composition of wheat flour
Components
Moisture
Starch
TKN
Protein
Phosphorus
Magnesium
Potassium
Calcium
Wt% whole wheat flour
12.4
68.5
1.9
11
0.286
0.067
0.572
0.039
Wt% barn-free wheat flour
10.6
79.3
2.1
12.3
0.174
0.019
0.284
0.021
Flour mills generally have a fixed group of consumers, and they can also sell flour directly to other flour mills, so there is no need to worry about the flour sales channels. Therefore, starting a business plan for a flour mill is also very promising and profitable. Is it profitable to invest or build a flour mill? The answer is yes. ABC Machinery will analyze this issue from the perspective of the prospects, costs and profits of establishing a flour mill in Pakistan. If you want to join the flour processing industry, open a flour mill or need to purchase flour manufacturing equipment, you can contact ABC Machinery, and we will give you a satisfactory answer.

Flour Milling Technology, Production Capacity, Quality and Consumption in Pakistan
Rotti, a CHAPATI made of flour, is the main food in Pakistan. Most people would eat it three times a day. So, the demand for wheat flour in Pakistan is huge, which is the basis of the development of the flour mill industry in Pakistan. In Punjab province, about 1,000 flour mills supply the flour for local and national markets. But, the flour supply from Pakistan's flour mills still can't meet the high demands. Many flour mills need to update their flour milling machinery to automatic type to improve the flour production efficiency and ensure the quality of flour products. (Read more: Cost of Setting up a Flour Mill in India >>)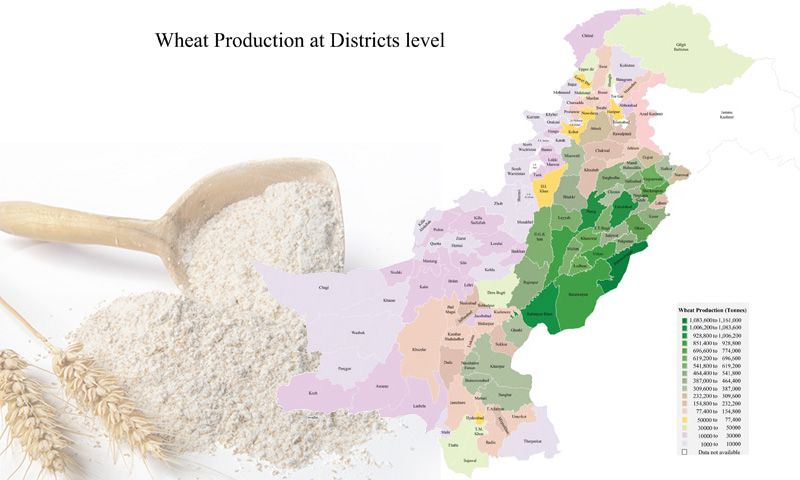 Setup Flour Mill in Pakistan
Main Wheat Products by Flour Mills in Pakistan
• ATTA • MAIDA • BRAN • FINE • SUJI

There are flour mill associations to help flour mill factories to check the flour quality in Pakistan. Flour production is fully supported by its government since Pakistan is the 6th wheat producer in the world and it has large scale wheat stock every year. The setting up of a flour mill plant can better provide flour to meet the demands of local people. In every aspect, starting a flour mill plant in Pakistan has a bright future. But, how to start a flour mill plant in Pakistan and how much does a flour mill cost in pakistan?
How to Set up Flour Mill Plant in Pakistan?
Before setting up a flour mill, all possible matters must be considered in order to maximize the profit of the flour mill, such as considering the location of the mill, preparing sufficient investment funds, understanding the flour manufacturing technology, and choosing the appropriate flour processing equipment , And after the flour mill is built, the layout design of the mill must be fully considered to meet the good operation of all equipment.
The factory site should be located near the raw material production area or the sales area, and where the transportation is convenient. The site should not be selected for significant food contamination and should avoid dust, insect pests, chemical, radioactive pollution, such as coal farms, chemical plants, etc.
Prepare Investment Capitals
No matter what business you are going to start, it requires investment, small or huge. So, it is a precondition to set up a flour mill in Pakistan. But, now there are a lot of ways to get the flour mill investment cost. You may get credit from banks and other monetary organizations for the improvement of your flour mill. As flour is an item of high need, most banks will not delay providing a loan to improve your business, since they know that you can pay the money for some premium.
Flour Milling Technology Understanding
There are different flour milling technology in the market, some are advanced and some are outdated. Knowing the trends of flour milling technology and flour milling process would be helpful on the further flour production. (Read more: Maize Flour Milling Process >>)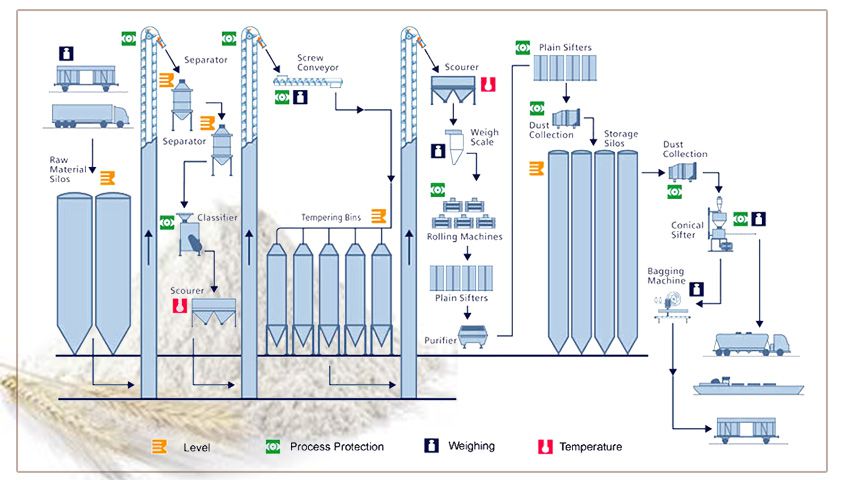 Automatic Wheat Flour Milling Process
Flour Mill Machinery Purchase
Since flour milling industry in one of the most important sections for human beings. Modern flour mill machinery is developing. And there are a lot of flour milling equipment manufacturers to provide various types of flour mill machinery. Typically, it can be divided into small scale flour mill, medium size flour mill, large scale flour processing plant based on the capacity. To meet the updating flour milling technology, automatic flour mill have been more and more popular.
Flour Mill Plant Layout Design and Setup


Start Flour Mill Project Cost in Pakistan
When all the equipment is prepared, it comes to the flour mill establishment. The flour mill factory design should take full consideration of all the flour production functions and equipment. If you can have reliable wheat flour mill suppliers that can take full charge of the flour mill machine installation and commissioning, you can save a lot of money, efforts and time.
Keep Flour Mill Operation Normally
When the flour mill plant is set up, the most important thing is flour production that requires workers and flour sales that requires reasonable strategies.

10~30TPD Small Scale Wheat Flour Milling Machine Provided by ABC Machinery


Small Size Wheat Flour Mill Plant
ABC Machinery provides a flour milling machine that has capacity from 10tpd to 500tpd to meet small scale or industrial scale flour production needs. In addition, our equipment adopts the latest automatic flour milling technology that can better improve the production efficiency and flour products quality. Please contact us to get FREE quotation and equipment parameters and price list!

The Cost And Profit of Building a Flour Mill Plant
The cost of setting up a flour milling plant fluctuates depending on a wide variety of factors, for example, the kind of equipment purchased, the nature of the hardware that must be used, the site and the cost of the raw product. There is no clear mention on the estimate of the cost that must be allocated for the creation of such a project, since, as it is, the approximation must be possible after evaluating and considering each of the needs required for that matter.


General Assembly Structure Drawing of Large-scale Flour Equipment Plant
The estimated price of flour mill machines is measured by equipment type and its correspongding service. The flour mill project cost in pakistan varies from many factors.
While a flour milling plant is being built in Pakistan, talented and qualified people are needed. In this way, it is important to observe the amount and kind of work to merge into the project.
Cost and Availability of Raw Material
The cost and availability of raw products must be considered; the office must be established in an area with a rich measurement of raw products. The expenses of these raw products can also vary depending on the market need, kind, and quality of the raw products. Various products are incorporated that can influence the cost of setting up a flour to mill.
Land in Pakistan changes accordingly, for example, land in urban or more developed environments has a tendency to have higher estimated prices than those in remote areas.
Cost of Flour Mill Equipment
Flour mill equipment would take up a large part of the flour mill setup cost in Pakistan. And the price of flour mill equipment is usually decided by its capacity and automation level. In most cases, a 10TPD wheat flour milling plant would cost about $11,000 and higher. To get the exact cost, you should check every detail with your suppliers and then ask them to offer the total cost!
Mini Flour Mill Machinery Working Video
How to build a flour mill to get more profits?
Making profits is the main purpose of establishing a flour mill. In order to obtain more profits, some measures must be taken when setting up a flour mill, such as conducting market research on flour, purchasing high-quality wheat and efficient flour manufacturing equipment. So how do you do it? Please see the detailed introduction of ABC machinery below.
Do market research on flour
If you want to make a profit in the market, you must first understand the market rules. In the flour market, the first thing to understand is the market's requirements for flour. People in different regions accept different flours. Therefore, before setting up a flour processing plant, it is necessary to know the popular types and requirements of flour in the target market.
Choose high-quality wheat raw materials
Choosing high-quality wheat that is full, complete, uniform in size, tightly organized, and free from pests and impurities can not only effectively improve the whiteness and precision of wheat flour, but also help improve the economic profits of the wheat flour processing business.
Choose flour processing equipment with good quality and high flour extraction rate
The quality of flour manufacturing equipment is also an important part of the profitability of flour mills. The flour mills of ABC Machinery are manufactured through continuous research and design by the engineer team and technical team, ensuring the stable operation of the flour production and manufacturing process, so as to ensure that the flour mill gains more profits.


If you have strong desires to start flour mill plant in Pakistan, ABC Machinery can supply full equipment and turnkey projects. We have rich experiences in Flour Mill Plant Projects. Choosing us not only can save the investment cost, but also can get high qualtiy equipment, long-term service life, high efficiency. If you have any qeustions about flour mill business in pakistan, do not hesitate to contact us for more details!