Different from the small and medium-sized flour milling equipment, the 70-200 tons/day wheat milling plant is characterized by the grinding system using pneumatic pressure system. And it is mainly constructed by steel frame structure (2-3 stories) or concrete building structure (4-6 stories).

The 70-200TPD wheat flour mill plant with pneumatic pressure system utilizes cutting-edge technology, ensuring the consistent and superior flour, which is a profitable investment opportunity for some ambitious entrepreneurs.
ABC Machinery has 25+ years of experience in manufacturing medium and large-scale wheat flour mills. We have a powerful team of experts who can customize a flour mill factory to meet your needs and your production scale. We have a full-service system from initial planning and design, to transport and installation, guiding you through the installation of your flour mill and deployment of the system until normal operation.
If you are interested, contact us for a professional consultation!

---
Wheat flour milling plant composition
The 70-200ton/d wheat flour mill plant belongs to steel structure. It adopts high square plansifter, manual or pneumatic mill and purifier, and other high quality flour milling equipments with advanced milling technology. The steel structure wheat flour milling machine can save factory area, decrease workshop cost, and decrease construction period. This series wheat flour milling machine covers small area, has brief structure, and produces high grade wheat flour with high yield with low investment. You will make profit with this series flour mill plant in a short period of time.
This70-200 ton/d wheat flour mill plant can be used to produce 1st and 2nd Grade flour as well as special flour.
Wheat cleaning part: 3 times of sieving, 2 times of threshing, 2 times of destoning, one time of wheat brushing, and 2 times of magnetic separation. It is mainly composed by raw wheat cleaning process and net grain cleaning process, which can fully guarantee the quality of wheat when feeding into the flour mill.
Main equipments
:
| Equipment name | Number |
| --- | --- |
| Magnetic selectors | 3 sets |
| High efficiency vibration sieve | 1 set |
| Threshing machines | 2 sets |
| Destoners | 2 sets |
| Wheat washer | 1 set |
| Rotary sieve classifier | 2 sets |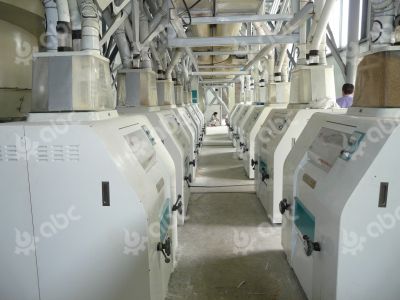 Wheat Flour Milling Part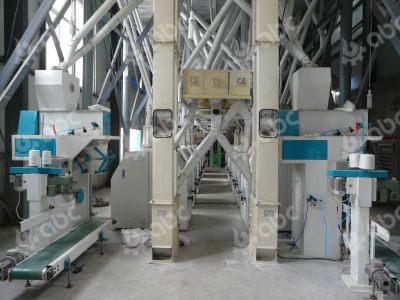 Wheat Flour Grinding Part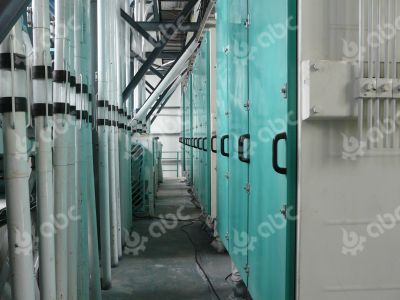 Wheat Flour Sieving Part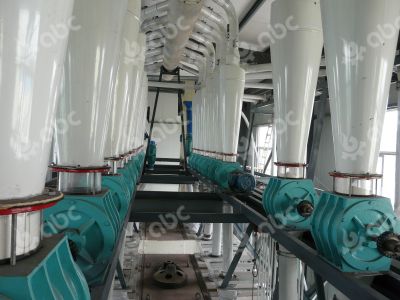 Wheat Flour Milling Plant
Flour milling part: this part adopts the milling technology of 4 bran milling, 6 core milling, 2 slag milling, 2 tail milling and 4 purifying, so that the wheat is lightly grinded and finely separated, wheat flour has high purity, and high grade flour has high output rate.
Main equipments
:
| Equipment name | Number |
| --- | --- |
| FSFQ100 type pneumatic mills | 10 sets |
| FSFG6*24 plansifters | 3 sets |
| FQFD49*2*3 purifiers | 2 sets |
| FPDW45*2 bran brusher machines | 3 sets |
Wheat flour milling machine technical data
| | Technical Data |
| --- | --- |
| Flour extraction rate | 68-75% |
| Flour grades | 1st grade, 2nd grade and special flour |
| Quality standard | GB1355 |
| Power | About 380kw |
| Workshop requirements | 30m*9m*12m |
Wheat flour milling machine features
It is widely used in small and middle scale wheat mills or farm in developing countries like in Africa.
All the machines are assembled on a chassis in accordance with the wheat flour mill plant diagram.
The compact design can save area and workshop building cost.
It is a dust-free design with low power consumption.
High flour extraction rate.
All the cleaning and milling flow sheet can be designed according to customer requirement, that's why we can make Turnkey Project.
The wheat silo and flour warehouse are excluded here. We will add it in your business plan.