​
10-20TPD small wheat flour milling plants usually consist of flour milling machine, a combination of wheat cleaning machines and auxiliary equipment, the requirement of output changes can be met by increasing the number of flour grinding machine units.

10-20 tons/day small automatic feeding wheat flour mill is simple to operate, covers an area of small, very suitable for small family-style wheat flour processing workshop. It does not require much upfront investment cost, providing a viable opportunity for small processing plants in rural areas and townships to enter the profitable flour milling industry.
Specializing in the production of flour milling equipment for more than two decades, ABC Machinery has distinguished itself from the competition by achieving high efficiency, precision and quality control of machinery. In addition, we develop streamlined and efficient production processes for our customers, ensuring cost-effectiveness and optimal utilization of resources.
---

Wheat flour milling is a traditional flour mill industry. In the past hundred years, the wheat milling technology mainly composed of wheat cleaning, sieving, and grinding. However, with the development of the world economy and the progress of science and technology, many high-tech methods have been successfully applied to this traditional industry.


10-30T/D Wheat Flour Mill Machine for Sale
At the turn of the century, new flour mill equipment and technologies were adopted by many wheat flour mill plants. For investors or farmers, seeking an advanced small scale wheat flour milling machine to setup their flour milling business become urgent. The 10~30TPD commercial flour mill for sale provided by ABC Machinery is cheap in price, great in quality and efficient in production, which makes it hot sale equipment in the market.
10T/D Mini Wheat Flour Mill for Sale
The 10ton/d mini wheat milling machine is the smallest scale flour mill plant. It is composed by combined grain cleaning machine, destoner, wheat washer, wheat milling machine, round sieve, fans, airlock, and so on. This wheat milling machine can realize all the basic wheat flour production process, like wheat sieving, threshing, destoning (removing stones), washing, grinding, and also flour sieving. (Latest order: 10TPD Mini Wheat Flour Mill Project Setup in Chile >>)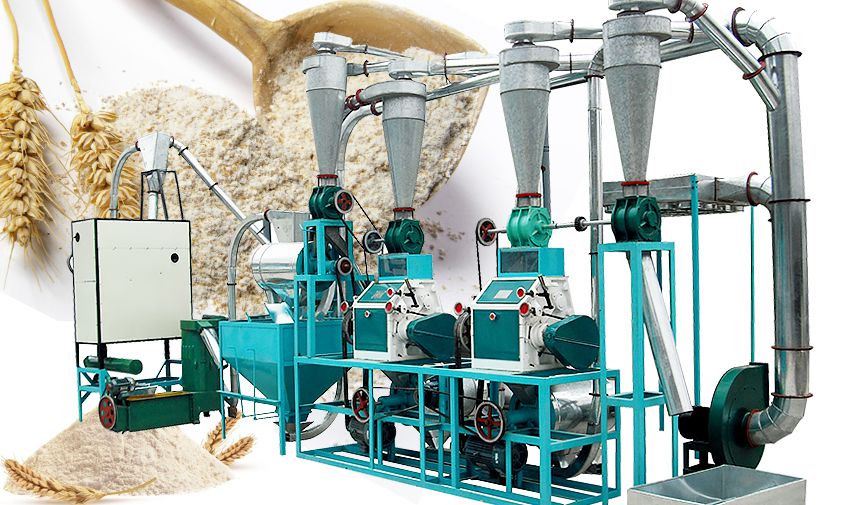 10TPD Mini Wheat Flour Milling Unit
The mini wheat milling plant has many features, which make it popular among buyers who are flour milling business startups, like small and compact size; easy installation, operation and maintaining; low power consumption; high flour milling efficiency. In addition, there are also advanced advantages on the whole flour milling euqipment design:


Mini Wheat Flour Mill Machine for Sale
Adopts fan for raw material elevating, which saves manpower and labor intensity;
Adopts round sieve to purify and clarify wheat flour, which is easy to replace the sieve;
Adopts 2 sets of flour milling machines to grind bran and wheat core separately, which can guarantee flour quality and output rate.

Mini Wheat Milling Machine Unit Specifications
| Capacity | 400-500kg/h wheat |
| --- | --- |
| Extraction rate | About 76% |
| Quality standard | GB1355 |
| Power | 27.15kw |
| Workshop | 10*5*4.5m |
10TPD Mini Wheat Flour Milling Machine Working Video
10~30tpd small scale wheat flour mill plant for startups – factory price wheat milling machine for small scale flour milling business: buy wheat flour mill from flour milling equipment manufacturer or supplier at factory price, get FREE technical instruction of wheat flour milling process and business plan to set up wheat flour mill project in Kyrgyzstan, Pakistan, Bangladesh, Uzbekistan, Saudi Arabia, etc., at low cost.
20TPD Small Flour Mill for Wheat Flour Production Business
The 20t/d horizontal wheat milling plant is a small flour milling machine. It is designed with cleaning sieve, wheat threshing machine, destoner and washing machine, magnetic selector, wheat milling machine, high efficiency plansifter, bran brusher, flour elevator, fans, airlocks and so on. This set of equipments can realize wheat bolting, threshing, stoning, milling and flour sieving. (Related post: Wheat Flour Mill Plant Cost >>)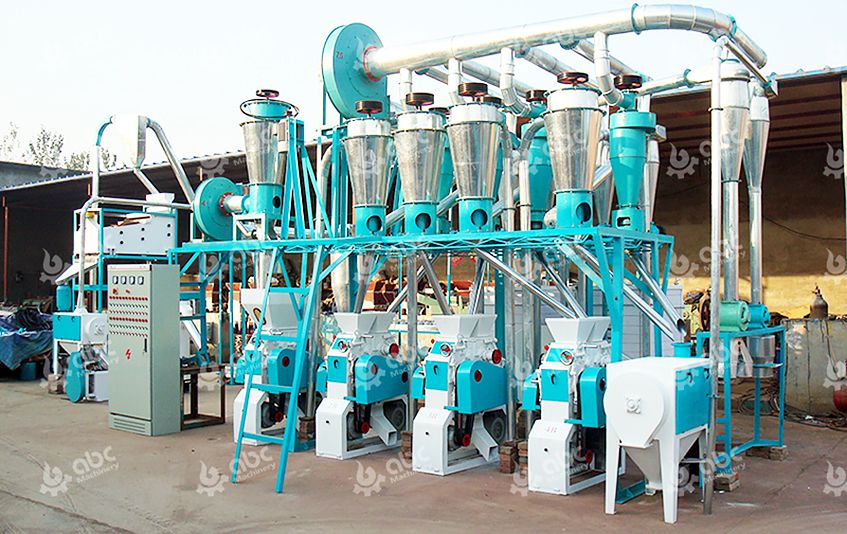 20TPD Small Flour Milling Machine for Wheat
► The wheat seeds cleaning part adopts the technology of 1 time sieving, 1 time threshing, 1 time of stoning, 1 time of magnetic selecting and 1 time of washing.
► The wheat flour milling part adopts the technology of 4 times of bran milling, 1 time of core milling, 1 time of bran brushing and grading outside sieve.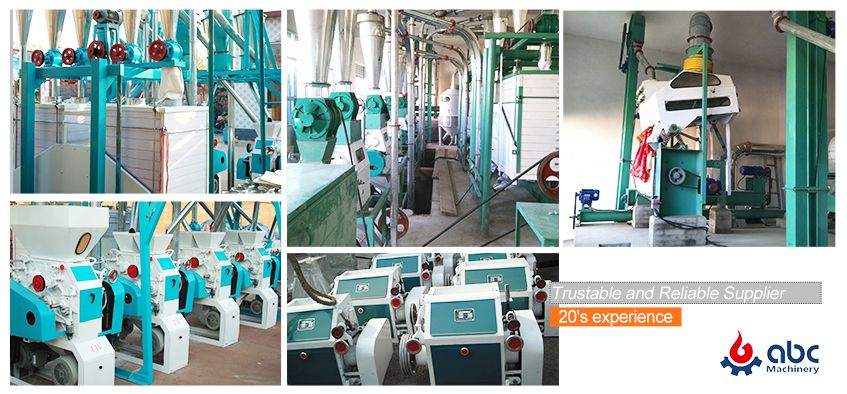 Wheat Milling Machine at Factory Price
This small scale wheat flour milling plant has compact structure, small size and high production efficiency. It is easy to operate and maintain, also saves manpower and labor intensity. This kind of wheat flour machines have high output rate and can produce high quality flour.

Hot Sale Smal Wheat Mill Plant Specifications
| Capacity | 20TPD |
| --- | --- |
| Flour extraction rate | 80-85% |
| Quality standard | GB1355 |
| Power | About 60kw |
| Workshop requirements | 16m*5m*4.5m |
Whether you want to buy small wheat mill for self-use, or for processing flour for sale, even you want to invest flour manufacturing industry, you can contact us for FREE!
Starting Your Small Scale Wheat Flour Milling Machine Line
Wheat flour is an important ingredient in preparing many food products that are being consumed in many parts of the worlds today. Concurrently, using wheat milling machine is inevitable. And scales of wheat flour production factories are setup all around the world. For the small scale wheat flour production, 10-20TPD wheat flour production machines are necessary to start the wheat flour production. In addition to flour mill machine, there are other factors you should also take into consideration when starts your small scale wheat flour milling business. (Read more: How to Start Flour Mill Factory? )


Buy Wheat Flour Mill Machine for Business
Find suitable factory building site. It should be prevent from the dust, insect pests, chemical and radioactive pollution, such as coal farms, breeding farms, and chemical plants.
Know more about wheat flour production process. The general process includes wheat, cleaning (screening, stone removal, magnetic separation, etc.), moisture adjustment (including tempering, wheat blending), grinding (milling machine, loose flour machine, flour cleaning machine), sieving (leveling) Sieve, high square sieve), finished product packaging. (Related article: flour mill factory design)
Finding reliable wheat flour mill suppliers. High quality wheat flour making equipment produces high quality. But the price is not everything, reliability, professionality and rich experiences in building flour making machinery are the most important which should be considered first.

Top 5 Countries of Global Wheat Consumption Percentage
| Country | Percentage (%) |
| --- | --- |
| EU | 17.6 |
| China | 16.3 |
| India | 12.9 |
| Russia | 5.8 |
| USA | 3.9 |