Production Capacity: 30-60 tons per day wheat flour milling plant
Main Equipment: Magnetic separator, rotary sieve, air suction separator, wheat flour milling machines, plansifter, flour packing machines......
Construction Structure: Steel platform structure generally
Reference Investment Cost: USD40,000-USD80,000

(The actual quotation will be based on your specific needs and specifications.)

Reference Project Cases: 60 TPD wheat flour plant project in Algeria; 30 tons/day wheat flour processing plant project in Chile and more.

30-60TPD wheat flour mills are considered medium-sized, as shown in the above figure, they are usually built with 2-3 stories steel-frame structures, using the manual vertical system.

30-60 T/D medium-sized flour mills are not too big, so they can stay flexible and adapt to different customer needs and market trends. Plus, the flour making process in 30-60 TPD flour production factory is not too complicated, they have modest investment cost, making them more accessible to potential investors, such as famers who have the raw materials or some small medium entrepreneurs.
ABC Machinery have professional skills in design, automation, and equipment manufacturing, ranging from customized non-standard ones to standard configuration models that offer multiple combinations, we can all provide you with the perfect solutions for you. If you intend to setup a suitable flour mill plant, welcome to contact us for flour milling equipment configuration solutions.
You may intrersted: Is flour mill business profitable in Nigeria>>

---
Wheat Flour Mill Plant Visual Design Solutions
We boast a team of highly skilled designers who are proficient in delivering meticulously visualized design solutions, transforming your visions into tangible realities.
Technical Feature Of Medium-Size Wheat Flour Mills
Generally utilizing a steel-framed floor structure,small land occupation and short construction time.
Medium-sized mills offer flexibility in terms of production volume and personalized customization is available based on your specific requirements.
The replacement of wearing parts can be completed quickly, reducing downtime and maintenance time.
Reasonable initial wheat flour plant investment cost and low maintenance cost in the later stage.
With a moderate scale, achieving a balance between automated processes and manual intervention.
Customized Design for Your Wheat Flour Milling Project (​60T/D)
Below is a showcase of a completed project design for a wheat flour production line that we have designed for a client (Project: 60TPD wheat flour milling plant in Ethiopia>>).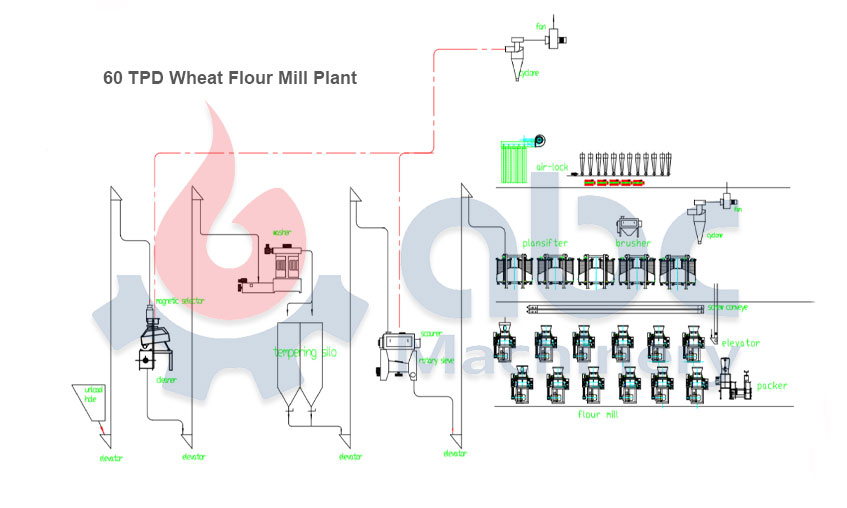 The following is the turnkey designed complete 60T/D wheat flour processing plant equipment configuration list, which can provide some reference for your planned flour business:
A Complete 60TPD Wheat Flour Production Line

Quantity





Wheat Cleaning Machine

Magnetic Separator

1

Grain Washer

1

Scourer

1

Rotary Sieve

1

Air Suction Separator

1



Flour Mill Machine

2250 Flour Milling Machine

11KW*2+7.5KW*4

2240 Flour Grinding Machine

7.5KW*4+5.5KW*2



Flour Sieving and Grading Equipment

83 Double-bin Sifter

5

FJS35*60 Grading Sieve

5

Bran Brush Machine

1



Flour Packing Equipment

Automatic Packing Machinery

1

Electronic Weighing Scale(100KG)

1

Electronic Platform Balance(300KG)

1

Bag Sewing Machine

2
Auxiliary Equipment: Tempering Silo, Elevator Airlock, Elevator, Screw Conveyor, Cyclone, fan, control cabinet…

According to the machinery configuration in the above table, the reference price is at least 80,000 USD. For more specific details about wheat flour production line cost, please contact us to obtain a quotation for the equipment configuration you desire.
Note: Due to various objective factors such as wheat varieties, flour production processes and flour quality, factory scale, budget, local regulations, and more, different process and equipment configuration options may arise during the actual design of a flour mill.


Wheat Cleaning Machines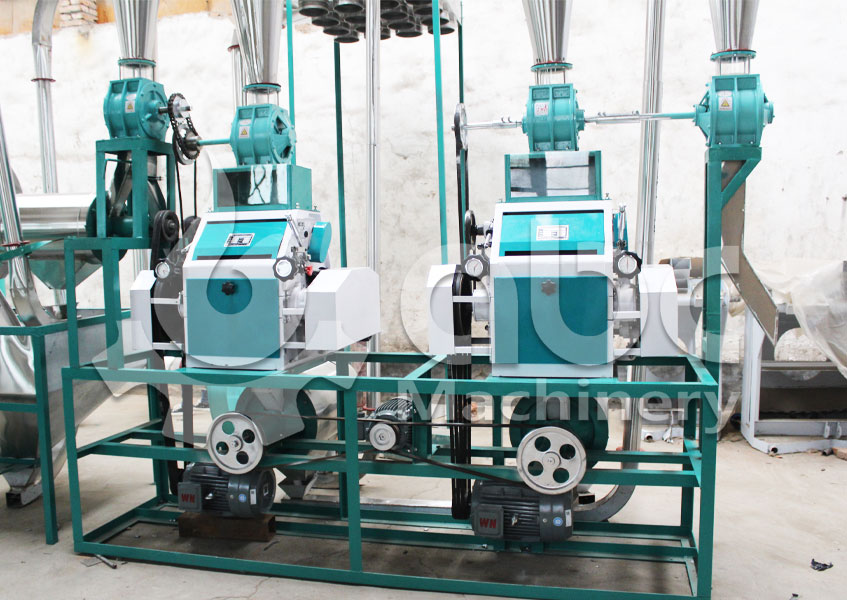 Single Wheat Flour Grinding Machinery for Sale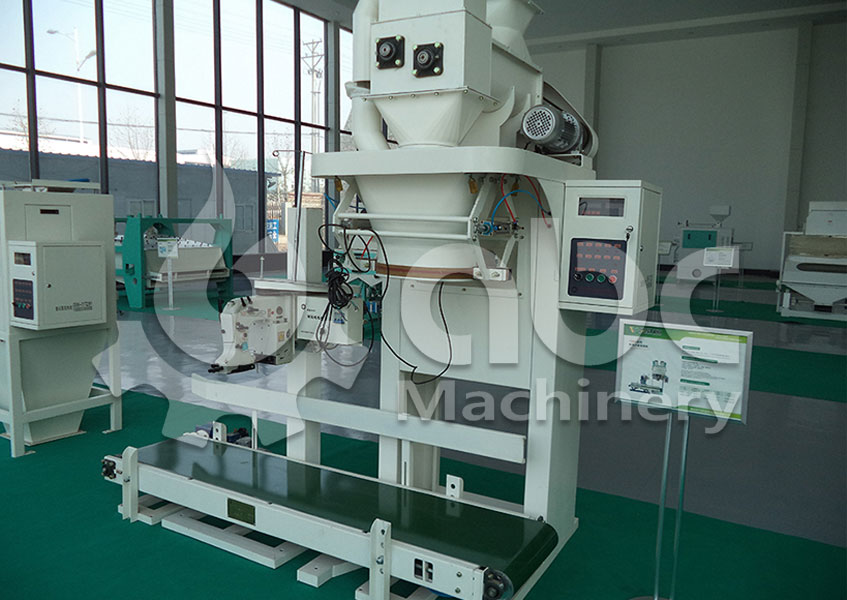 Automatic Flour Packing Machine
Wheat Flour Milling Process Introduction
Flour milling is a complex process of separating the endosperm from the bran and germ of the wheat kernel and then grinding the endosperm into flour, which is sifted to obtain flours of different qualities.
If you want to make wheat flour, the main manufacturing process steps include: cleaning→watering→grinding→sieving grading→powdering→packaging, etc. (The specific process needs to be customized according to the actual needs of customers)
Wheat is cleaned before milling, and according to the different characteristics of the impurities, the corresponding cleaning equipment (such as plane rotary screen, stone remover, magnetic separator) is utilized to remove various impurities. Then the wheat is moisture adjusted, which is favorable to the later peeling as well as crushing.
Next, the wheat is fed into the milling system, and after a series of grinding by the hulling mill, dregs mill and core mill, and separation of pure flour grains, bran-containing flour grains and bran flakes by the clearing system, the final flour that meets the standard is extracted and sent for packaging.
Read More: Wheat flour production process>>
How Much to setup a Medium Flour Production Mill
The cost of setting up a medium flour mill plant can vary depending on various factors such as location, size, equipment requirements, and infrastructure needs. Related Post: Flour mill project cost in Pakistan>>
First of all, the core of starting a flour mill factory is the flour making machinery. Flour milling equipemnt price are mainly are mainly determined by the daily processing of flour production size, different capacity and processing technology of flour production line prices often vary greatly. The cost of seting up a flour mill project would probably be at least 40,000 dollars. Second, even for flour processing equipment with the same processing capacity, the price varies greatly because of the different configurations required by the customers.
In addition, if you plan to setup a flour processing plant, we have to consider plant rent, raw materials, transportation, sales, daily management and other business costs. Generally, the estimated cost for setting up a medium-scale flour production mill is $80,000 or more. Feel free to reach out to us for professional technical support and a satisfactory quotation.
Our 30-60 Tons/Day Wheat Flour Processing Project Cases In The World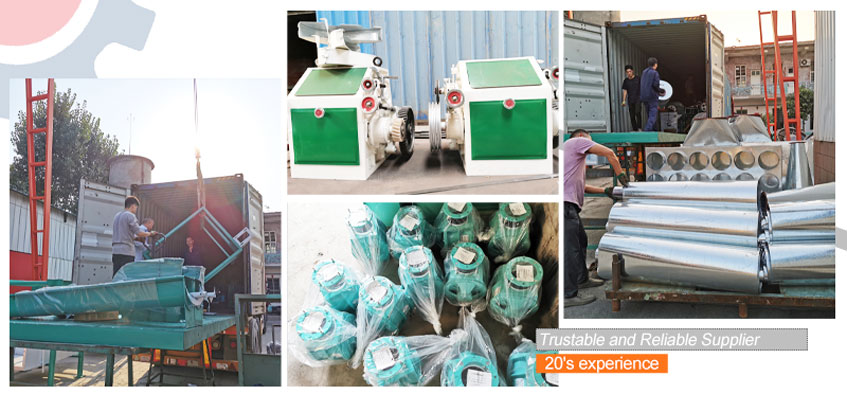 60 T/D Wheat Flour Mill Equipment Packed for Shipment