Are you thinking about starting a wheat flour mill business in Ethiopia? Do you want to invest in a profitable and successful business?
Ethiopia is a country with a rich agricultural heritage and a growing population. Wheat is widely consumed in various forms as one of the main crops, making wheat flour an important commodity. At the same time, the Ethiopian government recognizes the importance of the flour mill industry, promoting investment and supporting local wheat flour production.
Therefore, setting up a wheat flour mill plant in Ethiopia can be a lucrative business. However, to ensure the success of your venture, you need a solid wheat flour mill business plan.
Relaetd Posts: Setting up a flour mill in Pakistan>>

Provide Cost-Effective Wheat Flour Mill Machine for Your Business
In this article, we will cover the steps to customize a wheat flour mill business plan for the Ethiopian market, to help you achieve your business goals. If you have any questions while reading, don't be shy about consulting us for professional answers!

How to Create a Wheat Flour Business Plan in Ethiopia: A Complete Guide
Developing a business plan for your wheat flour processing business is critical to ensuring the success of operation. It provides direction and goals for setting up a wheat flour mill and is a guide for entrepreneurs to ensure the success and sustainability of the business.
Here are the key components and writing points of a wheat flour business plan:
1 Executive Summary
Your business plan should begin with a concise executive summary that provides a high-level view of your business. This section should capture the essence of your flour mill business, including its vision, mission, and goals.
2 Market Research and Analysis
Thorough market research is the cornerstone of your business plan. You must gain an in-depth understanding of the Ethiopia wheat flour market, including its size, demand, and competition. Gather data on wheat production, consumption, and trends, and consider factors such as regional differences in consumption, the quality of wheat produced, and local consumer preferences. (Read More: Flour mill market analysis column>>)
3 Company Description
In this section, provide a detailed overview of your wheat flour mill factory. Describe the history and background of your flour mill company, its location, and legal structure. Potential investors or partners will use this information to assess the viability of your business.
4 Products & Services
What types of wheat flour mill products do you plan to produce? These may include different grades of flour for a variety of uses, such as bread, pastries, or traditional Ethiopian dishes such as injera. In addition, please consider value-added services, such as packaging or distribution.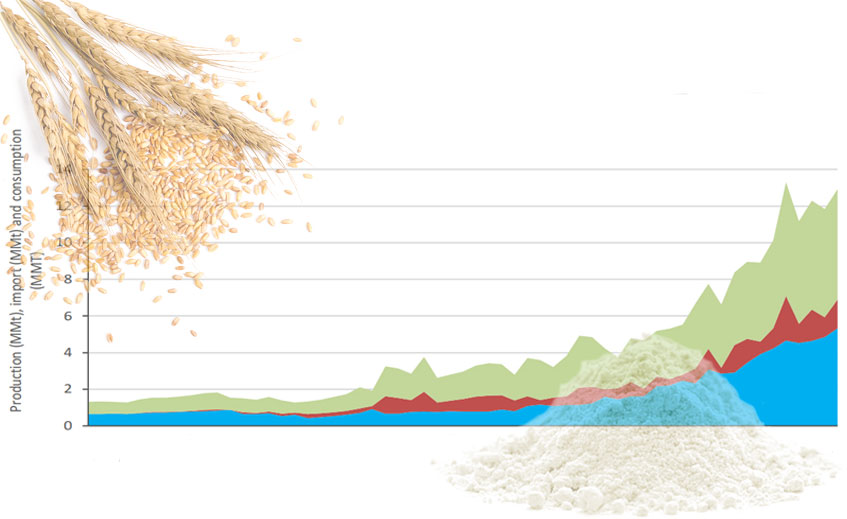 Growing Wheat Flour Industry in Ethiopia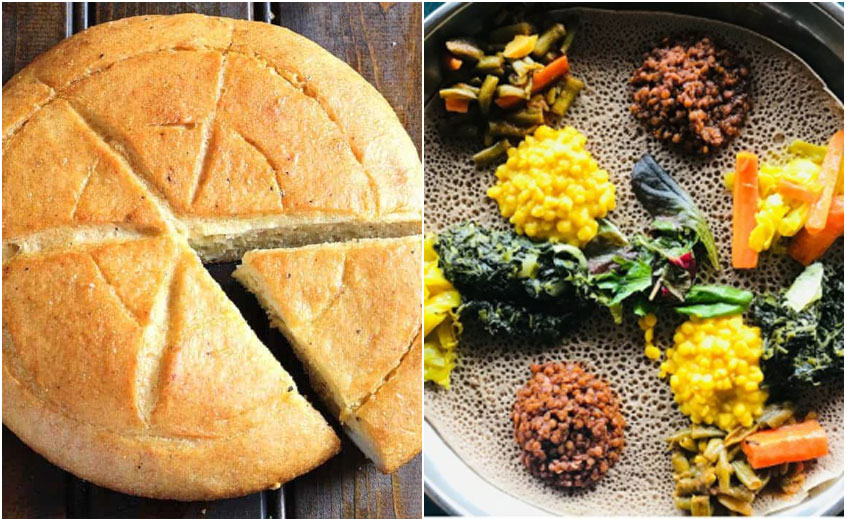 Traditional Ethiopian Wheat Flour Food
5 Sales and Distribution
How will you sell your products? Describe your sales strategy in this section, whether you plan to sell directly to consumers, wholesalers, or retailers. Discuss the distribution channels you will use to ensure that your flour products reach the right place at the right time.
6 Management and Organization
Introduce your management team and their role in the organization. Explain the organizational structure of your wheat flour mill business, showing how responsibilities are divided.
7 Capital Requirements
Setting up a wheat flour mill plant requires capital for commercial wheat flour mill machine, facilities, and operating expenses. Estimate the capital you will need and explain how you plan to obtain it. Whether through personal savings, loans, or investors, define your financial requirements. (Related Posts: Wheat flour mill plant cost>>)
It should be noted that investment in starting a wheat flour mill mainly includes the following aspects:

Wheat flour mill machinery and equipment cost
Raw materials-wheat purchase cost
Labor costs
Infrastructure and land plant costs
Other costs and expenses
8 Risk Analysis and Mitigation
Identify potential risks your business may face and describe strategies to mitigate them. Address issues related to market volatility, competition, or operational challenges.
9 Appendices
Include any additional information that supports your business plan for wheat flour production. This could be market research data, resumes of key team members, legal documents, or any other relevant information.
Promising Investment Prospects in Ethiopian Wheat Flour Milling Industry
Ethiopia, a nation with a rich agricultural heritage and a burgeoning economy, presents compelling investment prospects in its milling industry. There are mainly these advantages conducting wheat flour milling business in Ethiopia:
Abundant wheat resources: Wheat production and consumption have both increased in Ethiopia despite the existence of strong markets for potential substitute grains.
Government support: The Ethiopian government has played an active role in wheat markets, such as making large investments in extension programs and adopting protectionist policies to ensure government control of all commercial grain imports.
Low labor costs: With a relatively low labor cost environment, businesses can maintain competitive pricing structures.
Development opportunities: As a developing country, Ethiopia is undergoing rapid economic growth, providing development opportunities across various industries, including the food processing sector.
Project Report for Wheat Flour Mill Business in Ethiopia-ABC Machinery

FAQs of Starting Wheat Flour Processing Business in Ethiopia
How much does it cost to set up wheat flour mill plant in Ethiopia?
If you are planning to start a small flour mill business, you will need about 50,000 to 60,000 Ethiopian Birr. A large wheat flour mill will cost around 140,000 Ethiopian birr or more, with a variable ceiling. It also depends on the type of flour mill machine required for the business and the complexity of the wheat milling process.
What licenses are required to start a flour mill in Ethiopia?
The specific licenses and permits you will need may vary depending on the size and location of your flour mill company. You may need these licenses and permits: Business Registration, Environmental Permit, Food Processing License, Tax Identification Number (TIN), Health and Safety Permits, etc.