Effective Strategies for Your Flour Milling Business
Interested in starting a flour milling business? ABC Machinery's new column has got you covered! Our expert advice and cost estimates for small, medium, and large-scale operations in various countries will help you succeed. Let us guide you towards your flour milling goals.
Want to learn more about the flour milling industry? Check out our other articles in this column for in-depth guides on equipment selection, plant design, coat analysis and more.

Booming Flour Production Industry Bringing Opportunities
The flour milling industry plays a crucial role in providing the key ingredient for many of the food products we consume daily. As the demand for flour products continues to rise, starting a flour mill factory presents an attractive opportunity for farmers, entrepreneurs, and investors alike.
Global Flour Market Overview
"Global Flour Market is expected to reach $270,895 million by 2022, registering a CAGR of 4.4% during the forecast period 2016 - 2022. Wheat is the most widely produced cereal in the world, most of which is for human consumption. Flours are used as an ingredient in the making of bread, bakery items, and corn-based coating of fried food and fast food. In fast food restaurants, the consumption of flour is high as they serve food items such as donuts, burgers, cakes, and fried meat."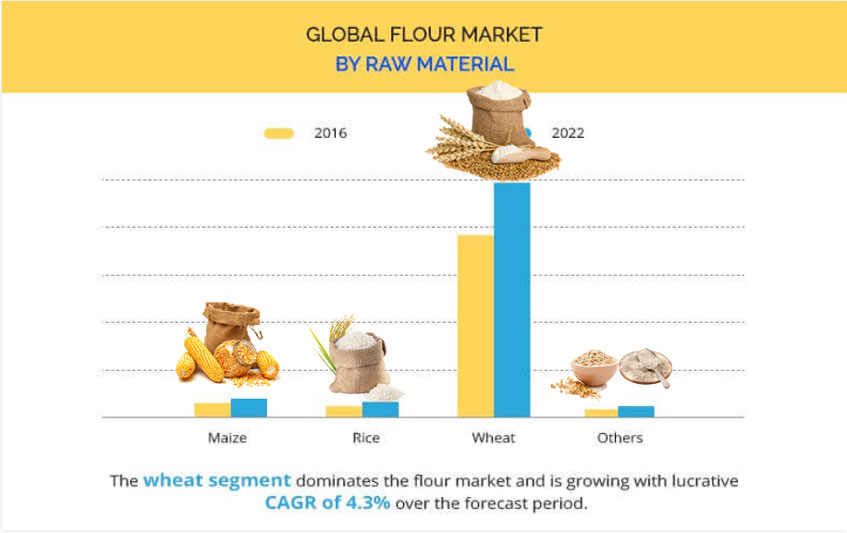 Global Flour Market by Raw Material
Strategies for Scaling Up Your Flour Milling Business
There are a number of techniques you can take into consideration if you want to grow your flour processing business.
|To start, you can cost more on better tools and flour mill machinery to expand your processing power and effectiveness.
Second, you can broaden your market by concentrating on new clients and creating fresh goods.
To accommodate particular dietary requirements, this can entail expanding into new geographical areas or developing new wheat blends.
To save expenses and increase margins, you can also optimize your supply chain and production procedures.
Finally, you might think about collaborating with other companies in the food sector to forge new connections and access fresh markets.
You can boost your sales, boost your profitability, and set up your company for long-term success by putting these tactics into practice.
Flour Milling Solutions That Are Customized to Your Business Needs
ABC Machinery is a leading supplier of flour milling equipment and services worldwide. We offer a wide range of flour mill machines and complete flour mill plant solutions to meet the needs of farmers, small and large-scale millers, retailers, and wholesalers. Contact us today for free consulting help and professional guidance on how to start your own flour milling business.

ABC Machinery: Provide Customized Solutions for Your Flour Business