Fully automatic flour mill plant is suitable for large scale wheat flour milling factory, ranging from 60tpd to 500tpd or larger. The flour produced is free of any additives, good taste, high nutritional value. And the whole wheat flour production line is fully automatic, highly efficient. (Similar project: 160 TPD Wheat Flour Mill Plant in Argentina >>)
How Much Cost to Setup an Automatic Wheat Flour Milling Plant?
The wheat flour mill plant designed and provided by ABC Machinery has perfect flour milling technology, high degree of automation and can produce a variety of grades of flour, which makes it a top choice for wheat flour milling business. (Read more: Flour Mill Business Plan >>)
Stable operation
High efficiency
Energy-saving
Easy maintenance
PLC system
Main equipment for a complete automatic flour milling plant has de-stoner, screening machines, wheat flour milling machine, purifier, square plansifter, packaging machine etc.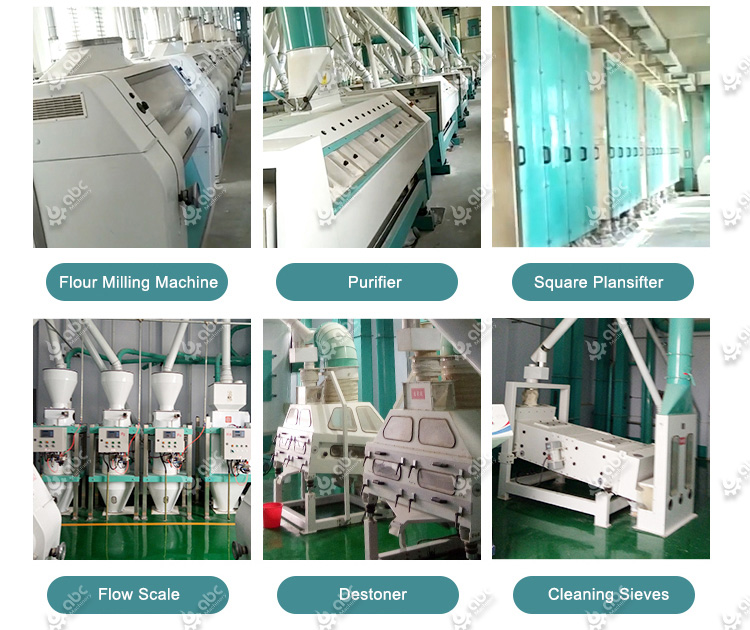 Main Wheat Flour Milling Plant Machines
The exact cost for the setting up of automatic wheat flour mill plant is decided by the equipment selected, which is closely related to the capacity you required. For instance, wheat flour mill plant with automatic design that can process raw materials about 100 tons per day will cost about $312,000. But, a small scale wheat flour milling plant, with capacity 10 tons per day, may only cost $11,000. Therefore, the cost of setting up automatic flour mill plant is not a simply questions, it is related to many aspects. If you want to know more about the project details, just contact us any time!

Reliable Automatic Flour Mill Plant Supplier
As a leading flour mill machinery manufacturer, we have gained rich practical experiences in setting up various flour mill plant, our core advantages has:
Our technical engineers can quickly provide factory design and installation drawings with a capacity of 10-1000 tons per day for complete wheat flour production line as per your requirements within 1~2 working days .
We have cost-effective flour mill equipment in the same industry; When comparing at the same quality and same capacity, the price of our equipment is lower than our counterparts.
We can provide services, including onsite installation, commissioning, training operators, etc.
Customers who have purchased our machines are registered, then we have full after-sales services that includes regular visits, solve the actual problem, enjoy a year warranty, lifelong maintenance of long-term service.

Automatic Wheat Flour Milling Machine for Sales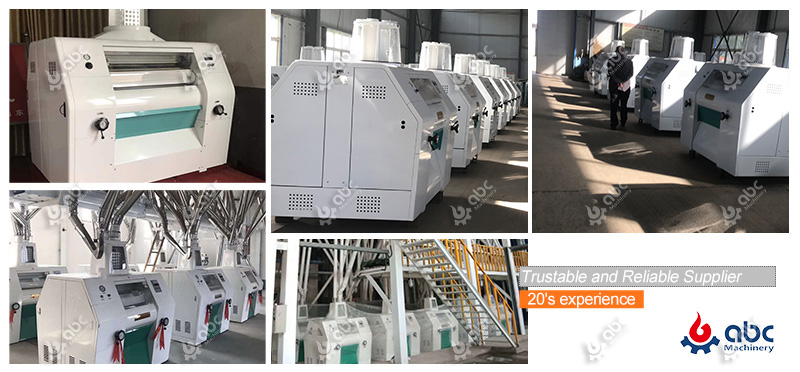 Factory Price Pneumatic Automatic Flour Mill Mchine
Full pneumatic automatic control grinding roller clutch gate and pneumatic friction plate clutch, and equipped with sensitive mechanical sensing device and servo feeding system, the opening size of the feeding gate can be adjusted automatically with the change of material flow. It is the core flour milling machine to setup a complete wheat flour mill plant. Below is its main advantages:
The grinding rollers undergo strict quality inspection and dynamic balancing treatment to ensure smooth operation.
The body is made of steel with cast structure, which makes the operation more stable.
The electric motor is installed in the mill, so the whole machine is easy to install.
It can absorb material from the grinding chamber or flow out material from the grinding chamber.