With the emphasis on healthy eating, more and more people find it healthy to grind flour freshly with a home flour mill machine. Home Flour mill machines are compact and efficient machinery and are suitable for a wide range of grains such as wheat, corn, and rice.
(Related Posts: Mini/Small flour mill machine>>)


Home Flour Mill Machine For Sale
In this article, we will discuss how to choose the right flour mill machine for home use, whether you want to enjoy the benefits of freshly milled flour for your family or are planning to start a small flour milling business locally.

Benefits of Flour Mill Machinery For Home Use
► Freshness Beyond Compare: Say goodbye to store-bought, processed flours.
► Nutrient-Rich Goodness: Retains the natural nutrients and flavor of the grain
► Cost-Effective: Save money in the long run
► Family-Friendly Fun: Flour making fun for the whole family
Choosing The Best Home Flour Mill Machinery: Crucial Factors to Consider
Whatever the purpose, choosing the right domestic flour milling machine is crucial. The following key points may help you make an informed decision.
1 Capacity Matters
Are you an enthusiastic home baker or aspiring to set up a small-scale flour business? The first and foremost factor to consider when choosing a home flour mill machine is its capacity (Kg/h). Capacity refers to the amount of flour the machine can produce in a given time. Your choice should be based on your specific needs and usage patterns.
2 Types of Home Grain Grinding Machine
Grain mill grinder machine come in various types, with two primary categories being stone burr mills and steel burr mills. The choice between these types significantly impacts the milling process and the resulting quality of milled flour.
Stone flour mill machine: Suitable for traditional breads and pastries, retaining the natural flavor and nutritional value of grains.Typically slower and require more maintenance.
Automatic Steel flour mill machine: The milling efficiency is higher and suitable for a variety of grains, including hard and soft varieties.
3 Balancing Cost with Features and Performance
If you are on a tight budget, there are some compact and efficient mini flour mill machines that can meet basic grinding needs and are perfect for small households. Some pricier machines offer greater efficiency and additional features that can be worth it for the serious home baker or small business. (Related Posts: Flour milling machine price>>)
4 Exploring Reliable Flour Mill Machine Manufacturers/Suppliers
Manufacturer Reputation- A manufacturer's reputation speaks volumes about the quality of their products. Look for companies with a history of producing reliable and durable machines.
Identifying Reliable and Reputable Manufacturers-Thorough research is necessary to identify manufacturers known for producing top-quality home flour mill machines. Such as WonderMill, NutriMill, and KoMo.
Reading Customer Reviews and Testimonials-Learning from the experiences of others who have purchased the flour milling machinery you're considering can provide valuable insights into their performance and reliability.
Home Grain Flour Mill Machine For Sale From Manufacturer
ABC Machinery is a professional manufacturer of flour processing equipment with many years of experience in the flour mill industry. Our domestic flour mill machines are made of high-quality steel, are compact, and are suitable for a wide range of grain materials, such as wheat, sorghum, rice, maize, coconut, chillis, spices. (If you have raw materials that you are not sure can be processed, please ask us!)
Below are some hot sale types of small grain grinding machine that are widely used in individual households as well as small commercial flour milling in rural areas.
Mini/Small Grain Grinding Machine For Sale
The main models of small flour mill for home use are M6FFC, M6FY, M6FX and M6FC. These models are compact and beautiful, featuring low energy consumption, low noise, space saving and cost saving. At the same time, they also have their own characteristics, you can make a choice according to your preference.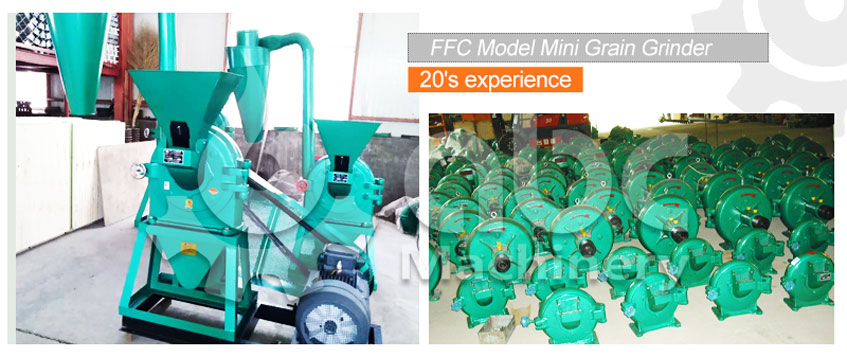 M6FFC Model Grain Grinding Machines-Factory Price
Grain Milling Machines Equipment Structure Show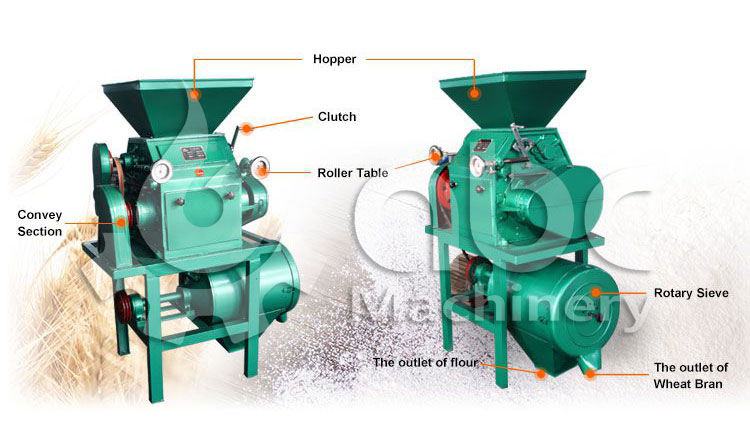 M6FY Grinding Mill Machines for Various Grains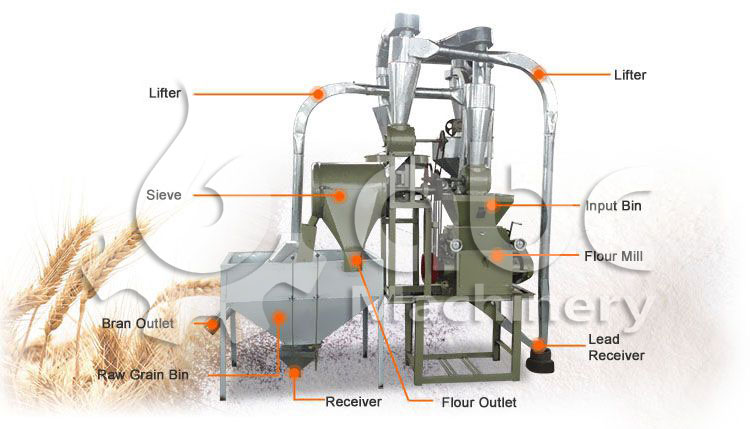 M6FC Flour Mill Machines(With 1 Sieve)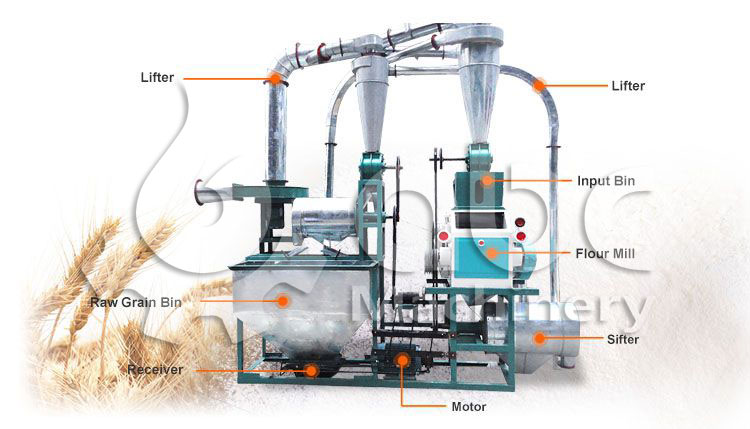 M6FX Grain Grinder Mills-Best for Wheat (With 2 Sieves)

Mini/Small Complete Flour Mill Plant For Sale
Add the M6 series machines to the cleaning equipment, elevator, and you have a simple mini production line, which makes it possible to make a small commercial flour mill investment.
| Model | Capacity(Kg/H) | Characteristics |
| --- | --- | --- |
| FFC Grain Grinder Machine | 100-3000 | Disc mill, mainly used for crushing and grinding grain, spice, tuber materials |
| M6FY Electric Flour Mill | 300-500 | Basic model, suitable for a wide range of raw materials |
| M6FC Grain Mill Machinery | 300-500 | Suitable for a wide range of raw materials |
| M6FX Automatic Wheat Mill Machine | 300-500 | Compared to the M6FC there is an additional sieve, more suitable for wheat flour processing |
| Small Flour Mill Plant | 1-10 Tons/Day | Suitable for those who want to mill flour for small businesses |
Using Home-Milled Flour in Ethnic Cooking
► Indian Cuisine - Chapati and Roti: Whole wheat flour( atta flour)milled at home is commonly used for making chapati and roti, traditional Indian flatbreads.
►French cuisine - Baguettes and Croissants: In French baking, high-quality wheat flour is essential for making light and airy baguettes and buttery croissants.
► Mexican food - Tortillas: Homemade tortillas made with freshly ground cornmeal serve as a great addition to Mexican dishes like tacos and enchiladas.
► Middle Eastern Food - Pita Bread: Freshly ground flour, especially durum wheat flour, makes for perfect, fluffy, airy pita bread.
► Ethiopian Food - Injera: Essential sourdough bread in Ethiopian cuisine and can be made from teff flour that you can grind at home.
► North African Food - Couscous: Traditional couscous is made from coarsely ground durum wheat and is found in Moroccan and Tunisian dishes.