Over the past few years, the cost of Uganda's traditional food crop (Matooke) increased greatly which forced its residents to consume corn as a cheaper food source. It gradually increased the maize flour consumption in this country as well. (Read more: Maize Milling Business Plan >>)


Start Maize Flour Milling Business in Ugada
As the demand for maize crops is increasing more with time, starting maize milling business or setting up a commercial maize milling plants in different regions of Uganda can be of great benefit to anyone who knows that this industry has a bright future in Uganda. Maize is a crop that is easily available in Uganda and it is also accessible at a very reasonable price so buying maize milling machine to establish your own maize production business now can earn you a lot of revenue in the future. (Latest post: Cost and Equipment to Setup a Maize Flour Mill in South Africa >>)
Maize Milling Machines for Sale in Uganda
In complete maize milling process, maize or corn is converted into flour that is used as a staple food in Uganda and many other countries in the world. Maize milling machines are used to change maize seeds into a powder form. (Related project: 50TPD Maize Flour Plant Setup in Zambia >>)
ABC Machinery provides all scale flour mill equipment for household and commercial use. We have a wide spectrum of equipment that can efficiently process maize into flour or grits. In addition, our grain processing machine can also process other grains, like wheat seeds, sorghum, cassava, millet, and more. If you are interested in, please send us your detailed needs!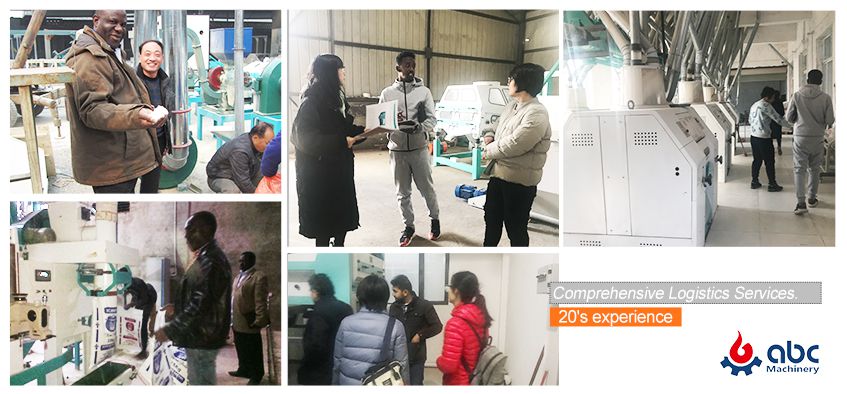 Maize Milling Machine Manufacturer

We offer the most favorable price for our customers to buy the most suitable equipment for their maize processing business. We have professional oversea installation team that is made of experienced engineers. Choosing us, you not only get the quality guaranteed maize processing machinery, but the all-round services to solve your technical problems. To get the detailed cost of shipping, installation and more, just contact us directly!
Choosing Small Maize Milling Reduces Maize Milling Cost
The price of small scale flour milling machine is relatively cheap. In the purchase of maize processing equipment, we should not only focus on the price, but also consider various expenses in the long-term use. Small scale maize flour milling machine has many advantages in the production: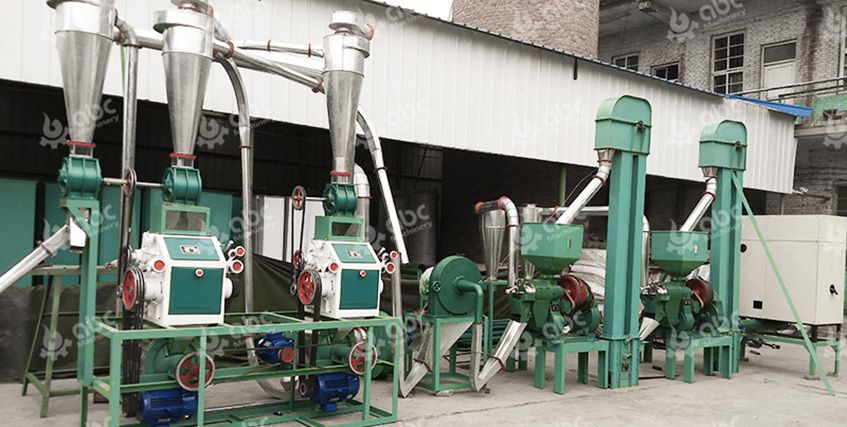 Setup Small Maize Mill Plant in Uganda
Easy to operate and less maintenance.
Low investment cost and less space occupation.
Flexible production capacity.
The final produced maize flour or grits can be comparable to large maize/corn processing plant.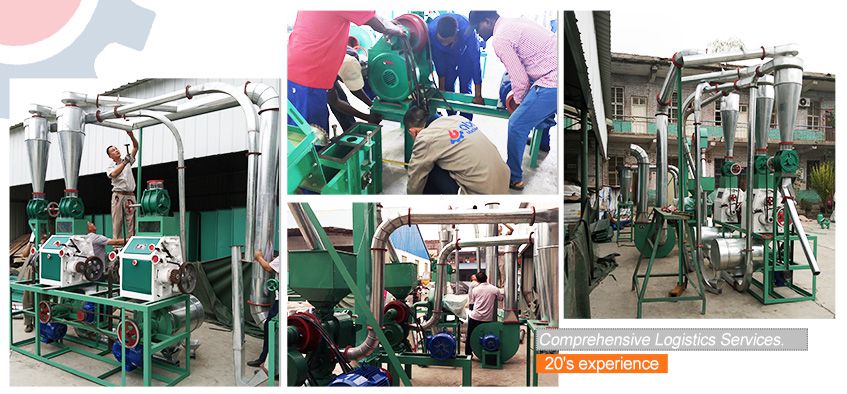 Factory Price Maize Milling Machine for Sale
Small Scale Maize Milling Unit for Sale
Setting up Small Maize Milling Plant in Uganda – Buy High Quality Maize Milling Machines for Maize Flour Making: HOT sale maize milling machine for sale in Uganda offered by maize flour mill machinery manufacturer or supplier, guide on process maize flour production and how to start maize milling business with limited cost in Uganda, Tanzania, Egypt, Morocco, Ghana, South Korea, etc.

Market Demand for Maize Milling in Uganda
In East Africa, Uganda is one of the largest producers of maize. During the past few years, maize production has increased in Uganda largely from 0.57 million tons to 1.37 million tons (from 1990 to 2010). It is due to an increase in the demand for nutritious food that is sold at a reasonable price in the country. (Related post: Wheat Milling Technology >>)
Main Maize Production District in Uganda
| District | Production | Share |
| --- | --- | --- |
| Iganga | 303,262 | 13.1% |
| Mubende | 171,089 | 7.4% |
| Soroti | 137,657 | 5.9% |
| Kabarole | 91,318 | 3.9% |
| Masaka | 82,287 | 3.5% |
| Kamuli | 81,969 | 3.5% |
| Tororo | 75,763 | 3.2% |
| Bugiri | 63,603 | 2.7% |
| Masindi | 61,715 | 2.6% |
| Kibaale | 60,529 | 2.6% |
Maize farmers produce maize which is converted into flour through maize milling process. This flour is mostly sold to Kenya and Southern Sudan as they are deficient in this crop due to which the country earns a lot of revenue through this market. Market demand for maize milling is increasing even more as people of Kenya have now started consuming this flour more than they used to consume during the past years. Therefore, setting a commercial maize milling plant in Uganda would be great business or investment.