Maize, or corn, is one of the most widely planted grains in the world. It is the main grain crop in Mexico, Brazil, Argentina, etc. While other countries like America, China, and most African countries, like South Africa, Nigeria, EthiopiaTanzania, also harvest large quantity of corn/maize every year. (Read more: Flour Milling Business in Kenya >>)


Maiz Processing Products
The maize can be processed into flour, grits, or even starch. But, how to process maize into flour? What is the detailed maize flour milling process? What machines are required in a complete maize flour plant? What is the demand for maize flour processing equipment in the development of the market? Read the following article and you will know more about maize/corn flour production. If there are any questions or want to know more,you can directly contact us, ABC Machinery is a professional manufacturer integrating production, development, and sales. There are a variety of flour mill processing equipment available for you to choose from , and our professional staff member will solve your problem and customize the production equipment for you.

Maize/Corn Flour Milling Process and Purchasing Skills
The complete maize flour milling process involves various maize milling machinery, mainly for maize cleaning and flour milling. Scientific and reasonable corn flour processing processes should be automated, which can not only reduce labor cost and energy consumption, but also ensure the quality of the final maize products.(Read more: Wheat Flour Production Process >>)

Complete Maize Flour Milling Process
Impurities Removal Process
Maize kernels are fed from the material inlet and the flow rate is controlled by a baffle. When the maize kernels are transported by the bucket elevator into De-stoner, they first go through fine sieve, the sand or other impurities smaller than maize will be screened out and discharged from the taphole. After fine sieving, maize kernels enter Coarse Screen to screen out impurities that are bigger than corn, for example, corn cob particles; while these impurities are also discharged from taphole. At the same time, above the sieve, it is connected with a fan. The function of Fan 1 is to suck those light impurities still mixed in maize kernels; such impurities will be eliminated by the function of centrifugal sedimentation. (Relate equipment: Grain Cleaning Equipment >>)
After cleaning, maize kernels go out the outlet and delivered into screw conveyor. Maize kernels flow in the screw conveyor and dust or similar small particle impurities are further screened out. Then, maize is delivered into Dampener. In the dampener, maize kernels and water are fully stirred and mixed. Those maize kernels that meet dampening requirements will be delivered again by the elevator into storage barrel for temporary storage, whose purpose is to make sure the feeding flow in next step is even.
Preliminary Breaking & Embryo Selection
On the outlet of storage barrel, there is a baffle to adjust discharging flow. When maize kernels get out, they will enter slag mill for preliminary breaking, so that some maize skin is separated from embryo. After that, broken maize is delivered by the elevator into Embryo Selection Machine. Inside it, maize skin and embryo are separated and expelled from different outlets. At the same time, on the top of embryo selection machine, there is connected Fan 2. Under the function of fan, some light impurities are sucked out, while the embryos discharged from the outlet of selection machine are delivered by Suction Fan 3 into Maize Flour Mill 1. Those maize skins discharged from the selection machine and some broken embryos will be delivered into Maize Flour Mill 2. (Read more: Maize Flour Milling Machine >>)
Finished Maize Flour Classification
The maize flour milled by maize flour mill machine are sucked by Suction Fan 3 and delivered into Double Bin Sieve 1 for sieving, and the maize flour that meet standards will be ejected by Suction Fan 4 for weighing and packaging. While the maize flour that does not meet crushing standard will be screened out from Double Bin Sieve and then delivered by Suction Fan 3 into Flour Mill 3 for further grinding. The discharged material is delivered by Suction Fan 3 into Double Bin Sieve 2 for sieving: the corn flour that meets standard will be ejected by Fan 4; those substandard will be delivered by Fan 3 into Maize Flour Mill 4. After milling, maize flour is again delivered into Double Bin Sieve 2 for screening. (Read more: Cost of Setting up a Maize Mill in Uganda >>)


Maize Flour
Over such cycling of maize milling process, maize flours can meet different classification standards. Depending on maize flour content and particle size maize flour is classified into 4 grades:
► Grade 1 and Grade 2 are mainly maize skin and small proportion of maize flour, and are generally used for animal feed;
► Grade 3 and Grade 4 are fine maize flour that are used in food related industry for human consumptions;
Maize Flour Production Video
5~500TPD Custom-made Maize Flour Mill Plant for Sales [Project Display]
ABC Machinery is a real flour mill machine manufacturers, we have our own factory. We fully grasp the quality of equipment and patent technology. With 20 years of project experience, we can provide you with fully advanced engineering solutions. Our complete corn/maize flour processing plant has the characteristics of advanced technology, excellent equipment, strong specificity, reasonable layout, low power consumption, high powder yield and good quality of finished products. The finished product is widely applicable to food enterprises, sugar enterprises, beer enterprises.
Small Scale Maize Flour Milling Machine - 5~30TPD
Medium Scale Maize Flour Mill Plant - 50~200TPD
Large Complete Maize Flour Production Plant - 200~500TPD
According to customer needs, we can provide one-stop custom-made service that includes factory design, equipment manufacturing, installation, commissioning, training and after-sales. We have built many flour mill plant projects around the world. If you are interested to know about our maize flour milling plant project report, please just contact us directly to get the latest project cost and equipment plist!

About the Cost of Maize Flour Milling Plant
For most of the customers, the total cost of maize flour milling machine is what they care most. We totally understand it since the investment capitals are the key factors to set up a complete flour mill plant. But, the exact cost of a maize flour milling plant is decided by many factors, including capacity, equipment selected, power supply, requirements for final products, so if you are interested in our equipment, just describe your requirements clearly, then our engineers or sales can offer you the customized quotation with exact cost.
The right way to purchase maize flour processing machine
Many investors know that the maize flour processing machine produced by different manufacturers、different manufacturing methods and different materials are different, and the corn flour produced will also be different. Therefore, investors need to choose the right method when choosing corn flour processing machinery in order to purchase the right equipment.


Choosing Best Maize Flour Milling Machine
First of all, for corn flour processing equipment with better quality, its bearings and gear boxes should be far away from the valve body to prevent the influence of high temperature and impurities, and the front and rear covers must have a better sealing effect to avoid dust leakage. It has a very good overload function of the airlock, which is more suitable for more starting and forward rotation, and the processing efficiency of the whole machine will be higher.
Secondly, the corn flour processing machine processes the raw materials by adopting the principle of planetary rotation. The design input and output are all on the same axis and connected with the motor. Its teeth are made of cast iron and bearing steel, which is compact and runs. It is more stable, has the advantages of low noise, fewer problems, and long life. When comparing this kind of machine, personnel can consider these aspects to do component analysis to ensure the quality of the machine.
It can be seen from the above that when purchasing the maize flour processing machine you need to pay attention to many aspects. Therefore, knowing more industry information and product information can effectively help you screen, which is the right way.

The Development Status of Maize in its Main Producing Countries
The history of eating corn is very long. People started to eat corn flour before eating corn. But the previous technology level was relatively low, and the variety and taste were not good. However, with the emergence of maize flour mill processing equipment, the variety of corn products continues to increase, and the taste gradually meets people's requirements and market expectations, which makes the maize flour processing industry seize the market's rising space and attract people's attention. As the third largest polar food crop in the world, corn has extensive nutritional and health value and development potential. How to use the technology introduced at home and abroad to implement the intensive processing technology of maize flour processing equipment so that maize food can enter various countries and regions into a larger market is an urgent problem for maize flour production businesses.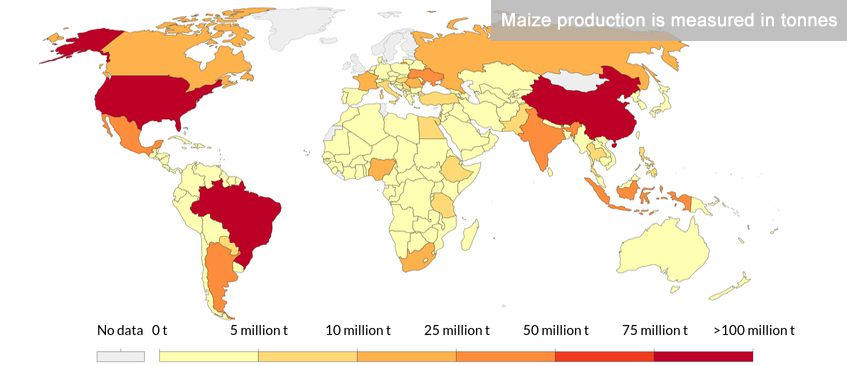 Maize Production Countries
| | | | | | |
| --- | --- | --- | --- | --- | --- |
| No. | Country | Production (1,000 metric tons) | No. | Country | Production (1,000 metric tons) |
| 1 | United States | 366,287 | 8 | Mexico | 25,600 |
| 2 | China | 257,330 | 9 | Canada | 13,900 |
| 3 | Brazil | 94,500 | 10 | Indonesia | 11,900 |
| 4 | European Union | 60,720 | 12 | South Africa | 11,500 |
| 5 | Argentina | 46,000 | 13 | Russia | 11,250 |
| 6 | Ukraine | 35,500 | 14 | Nigeria | 11,000 |
| 7 | India | 26,000 | 15 | Philippines | 8,200 |
The combination of maize flour milling machine with agriculture provides a good opportunity for industrial development. In daily life, raw grains can be made into flour products through maize flour milling equipment, and then various foods can be made for people to use, which brings great convenience to people. Therefore, it has brought a good development in the maize flour processing industry and has been greatly affected. The processing manufacturers are welcome. Go to ABC Machinery to directly purchase a complete set of equipment, including peeling, grits and other auxiliary equipment, which prevents the equipment time, as well as accessories and wear parts. Any problems presented later can be dealt with in time for you, and the whole after-sales process Worry-free guaranteed. Welcome to contact us to set up your maize flour milling plant!