Are you planning to start a small-scale flour milling business in your city or in your country? Recently, many customers have chosen to start small-scale flour mill business. On the one hand, they don't know much about the specific manufacturing of the flour production process, on the other hand ,they have limited investment budgets, so they chose to open a small flour processing factory first, so that they can not only have a better understanding of the flour industry and the flour manufacturing process ,but also accumulate capital for their business expansion. Despite the high returns of the flour mill business, it is not an easy task to start, especially for those who lack experience in the flour milling industry. There are a number of things you need to know and need to do.


Flour Milling Business
► How to Start Flour Mill Business?
► Is there Any Feasible Flour Mill Business Plan?
► How to Choose the Suitable Four Mill Machinery?
► What is the Cost to Set up a Small Scale Flour Mill Factory?
► How to Ensure the Profits of Your Flou Milling Business in the Long Term?
ABC Machinery is China's largest grain and oil processing equipment manufacturer and supplier. We are a comprehensive enterprise that specializes in the production of complete sets of Flour Mill Machinery, the main products are large fully automatic flour mill plant, small flour milling machine, chilli powder making machine, grain grinding machine, grain cleaning equipment, etc. We believe we are your indispensable partner to set up a flour mill business. Choosing us, you are guaranteed high quality and factory price equipment. More importantly, our expertises in setting up flour mill projects will help you lower the cost greatly. This article will introduce you to the first point in the above list in detail: how to start a small-scale flour processing business, if you are interested in other issues,welcome to contact us directly to get the business plan, free quotation, equipment selection guidance, factory design, employees training, etc.

The Steps to Start and Run a Small Scale Flour Milling Business
The location of the flour mill plant is among the things you cannot ignore when entering this field. The location will determine the success of your flour mill business. It is the precondition that your factory should be situated in where it can conform to the zoning regulations of the region. Therefore, it is recommended to conduct a deep market research before making the decisions. If you are not sure about the location, it is advisable to consult a few experts over the same. It does not make sense to pump a lot of money in a business located at the wrong place. There are high chances that you will end up failing and closing down the doors of your small company. (Related Post: Cost of Setting up a Flour Mill in India >>)
Get Adequate Financial Support
It is impossible to flour mill business without capital. It is recommended to perform an analysis of the amount of money and other resources you will require so as to start and maintain your business successfully. There are different ways to finance the business, including loans and personal cash. Most of the investment cost will go to flour milling equipment, like roller mills, sifters, aspirators, cleaning equipment, etc. In addition, you will need facilities that will help you when it comes to drying as well as storage of the final products. Therefore, make sure that you have an adequate amount of money to perform this.
Understand the Flour Milling Process


Simple Small Flour Mill Process Flow
If you want to have a better control about your business, getting a clear understanding about the production process of small scale flour mill is exactly what you need. The flour milling process you choose may influence the selection of the flour mill machinery, further having an influence on the investment cost and the production efficiency. It is now all accessible on the Internet to find out any information about the flour production process. Or, you can consult professionals for guidance.
Buy Machine and Set up the Factory
Then, it comes to the most important steps: purchase the best flour mill machine and build the flour production line or factory. Reliable and strong flour mill machine manufacturers not only offfer the factory price and high quality flour milling equipment, but also have professional experiences that are very important for the setup of your flour mill factory. (Related Post: Flour Mill Project Cost >>)
Daily Management and Production
The daily routine of a flour mill machine involves premilling, milling and post milling activities. Each of these stages requires different skills. This implies that it is good to hire someone to help deal with different stages to ensure efficient production.
Small Flour Mill Business

| Project | Country |
| --- | --- |
| 10TPD Flour Milling Machine | Nigeria |
| 20TPD Flour Production Line | Mozambique |
| 30TPD Flour Mill Plant | Chile |
There are also other factors you should take into consideration when you prepare to start a flour mill business, such as market strategies and more. Above mentioned is just for a reference.
If you want to complete a flour mill business plan, please contact professionals or send your requests to us, then we can offer you the customized business plan, equipment along with a detailed price list!

What is the Development Trend of Small Scale Flour Milling Machines?
The energy consumption of the small scale flour milling business has become a concern of everyone, and the increase in the electricity bill for industrial electricity has made low-energy equipment favored by everyone. Many flour processing manufacturers increase the power of their equipment in pursuit of processing efficiency. This will not increase the actual benefits obtained, but may increase the cost. Therefore, low-energy-consuming flour mill processing complete sets of equipment have received much attention.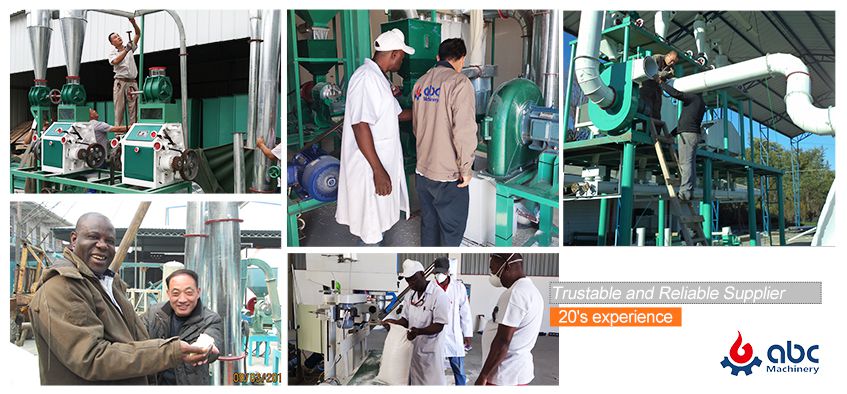 Installation and Commissioning of Small Flour Mill
So what are the advantages of low-energy flour mill processing equipment?
The cost of electricity is a very important expenditure in operation, and reducing the cost of operation will reduce the total investment and increase economic benefits.
Some consumables are needed during the operation of a complete set of flour mill processing equipment. If the power is too high, the loss rate of consumables will increase, and the service life of low-energy-consumption machinery and equipment will be longer.
Although the manufacturing efficiency of the low-energy flour milling machines is lower than that of the high-power equipment, it can also meet the needs of most factory owners and investors, and the quality is guaranteed.
Energy-saving and efficient flour mill processing equipment has many advantages, so it is very suitable for investors to start the small scale flour milling manufacturing business. If you are already interested in opening your own flour mill or need to buy suitable equipment for the factory,don't hesitate to contact us, believe that we will give you a satisfactory answer.

Choose Energy Saving and High efficiency Small Scale Flour Milling Machines to Start Your Business
As the largest flour mill machinery supplier in China. We have a wide-ranging spectrum of flour manufacturing equipment. For small scale type business, the single flour mill machine and mini or small scale flour mill plant is the BEST choice due to its low investment cost, small size, full functions and easy operation. Every set of the machine is directly delivered from our factory, so you are totally assured about the price and quality. (Related Equipment: Wheat Flour Milling Machine >>)
Setting up a small scale flour mill plant project would be easily started with affordable price with our flour mill machines. And, the capacity and the machinery of the flour mill plant always affects the cost.
If you are interested in our small scale flour milll machinery, ask for the price and machine parameters, please contact us directly!

Mini Flour Mill Plant Working Video

In summary, small scale flour milling is one of the most profitable businesses that you can start. Many people have made a fortune from this business and you can also do the same. You only need to conduct research about the market and have enough capital to get started.In addition, ABC Machinery can also design the corresponding flour production plan according to your needs. In order to design the plan more accurately and meticulously, you can send us your specific needs through the message form below, or contact us directly by phone. I hope we can provide you with suitable flour production equipment to make your flour processing project go smoothly.If you have any questions during this process, you can directly contact us for the guidance!