Country: Mozambique
Capacity: 20 tons per day
Main Sections: Grain Silos and Maize Flour Mill
Main Equipment: Grain Silo, Combination Cleaning Screen, Maize Peeling Machine, Crusher, Maize Milling Machine, Plansifter, Automatic Packing Machine.
Similar Project: 50TPD Maize Flour Plant in Zambia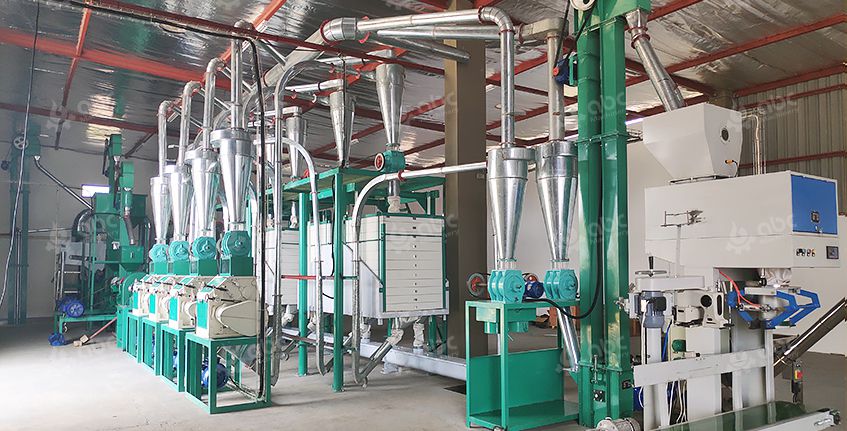 20T Maize Milling Plant

4*25T Silo & 20TPD Maize Flour Milling Plant Technological Process
The whole maize processing plant includes two sections: raw material storage silo and small maize flour milling factory.
First, the maize is transferred from the raw material pit to the grain silos by elevator, then it is continuously transferred to the maize processing factory by scraper conveyor.
Second, the maize is further processed into maize flour by a series of steps: cleaning, peeling, crushing, flour milling, flour sieving and classifying, and flour packing. All the maize flour milling processes are completed in this 20ton maize milling plant.
Maize Flour Milling Machine Onsite Installation and Commissioning
In order to help our customers quickly install the maize processing machine, our installation technical team taken all the factors into considerations, so they can solve the problems instantly. Just check the onsite installation of our maize flour production equipment.
If you are also interested in setting a flour mill plant for maize flour production, just contact us to get the project cost and equipment specifications!
20Ton Maize Milling Plant Project in Mozambique
4*25t grain silo & 20tpd small maize milling plant setup in Mozambique – factory price maize mill machinery for maize flour production: Buy 20ton maize milling plant from flour milling machinery manufacturer or supplier at factory price, get FREE technical instruction of maize flour milling process and business plan to set up small maize flour mill factory project in Kyrgyzstan, Pakistan, Bangladesh, Uzbekistan, Saudi Arabia, etc., at low cost.

Maize Flour Production Business Opportunities
Maize milling business is a great investment to be made in this time of high demand. Starting commercial flour mill for maize flour/maize grits with a proper roadmap can bring be lots of success in the field. Maize flour is used as a staple food. It is used in a number of dishes worldwide and its demand is increasing gradually. The United States, China, and Brazil are the top most producers of corn crop. In addition, in many Africa countries, like Kenya, Uganda, Zimbabwe, South Africa, et., maize flour milling business is also has great potential. (Read more: Starting a Maize Milling Business in South Africa >>)


Maize Milling Machine Project for Sale
As its raw material is not very expensive and it is also easily available in certain countries due to which starting this business in your country can bring you lots of benefit. Therefore, Finding out a reliable maize milling machine suppliers to buy the good flour mill machinery to setup your own maize flour mill plant to make money now!
How to Start Your Own Maize Flour Production Line
Starting your own maize flour production line needs commitment and determination. To get success in this field you also need to learn the basic things like flour milling process that is used for maize flour production plant, which maize milling equipment is used, how all these machines work, how to identify the quality of raw material, etc. The following are the essential steps that you will have to take to start your own maize flour production business.
Do a thorough research of the area before establishing your maize flour production line there. The things that you should look in a place before choosing it to be the final location are:
How far is this area from the market?
How far the raw material supplier is from this area?
Does this area have electricity supply 24/7?
Is it safe to start a business?
It is better if you choose an area that is near the market place and the raw material provider. This way you will not have to spend much on transportation. The area should also have 24/7 availability of electricity. Otherwise, you will have to spend a lot in buying generators, fuels, etc.
Look for a Raw Material Supplier Nearby
The raw material should be in abundant amount. It should also be provided whenever you need it so that your business does not face low productivity due to the shortage of raw material. The supplier should also have his storehouse near your flour processing plant so that you can get the material without facing transportation issue.
Understand the Process of Maize Flour Production
To make your name in a field, you first need to learn it fully. Otherwise, people who have been working in this field will not let you get ahead. So, understand how this whole process works. What are the basic equipment that you need and from where you can get them. How you can improve the productivity and what are the ways to get maximum yield. (Read more: Small Maize Milling Machine for Sale in Uganda >>)


Maize Flour mill process
Purchase Maize Flour Production Machinery
As the whole process consists of several steps so it means every step needs different equipment. General steps involved in a maize flour production line include cleaning, de-germinating, milling, packing and selling. So, different equipment such as cleaner, de-germinator, roller mill, packing machine, etc. are needed to run this process successfully. Purchase equipment that have a high yield and also have an affordable price.
Hire Workers and Manage Daily Production
The next thing that you should do is hire a capable team of workers who know how these machines work. Manage daily production and handle all the matters carefully.
Sell Maize Flour in the Market
Sell maize flour at a reasonable price in the market. For marketing of your brand, designs bags that have your brand's logo and name printed on them.
The Nutritional Content of Corn Flour

Project

100/g
NRV%

Energy

1546

Kilojoule

18%

Protein

8.5g
14%

Fat

1.0g
2%

Carbohydrates

77.8g
26%

Sodium

0g
0%