The Development Space of Flour Milling Machine Will Increase
Flour mill industry is both traditional and modern industry, flour mill process from the original mechanization to the fully automation, the broad prospects of flour milling plant is undoubtedly.


Offer High-quality Flour Mill Plant Equipment for Business Starting
ABC Machinery is a company is a reliable and professional designer and manufacturer of flour mill plant for wheat, corn and other grains. Our automatic flour mill machine adopts spiral feeding and light control technology, which is exported to more than 50 countries and regions in Europe, America, Southeast Asia, Middle East, Russia and surrounding areas. If you are intend to start a flour milling business plan, welcome to negotiate cooperation with us!

Commercial Fully Automatic Flour Milling Plant for Sale
ABC Machinery's automatic flour milling machine is automated operation, which realizes the assembly line operation of flour processing, improves the flour production efficiency, and significantly reduces the flour mill cost.
The commercial automatic flour milling machine adopts an advanced skin and core separation process, a round sieve to lift the flour, a compact structure, and a standard design, which improves the flour making output.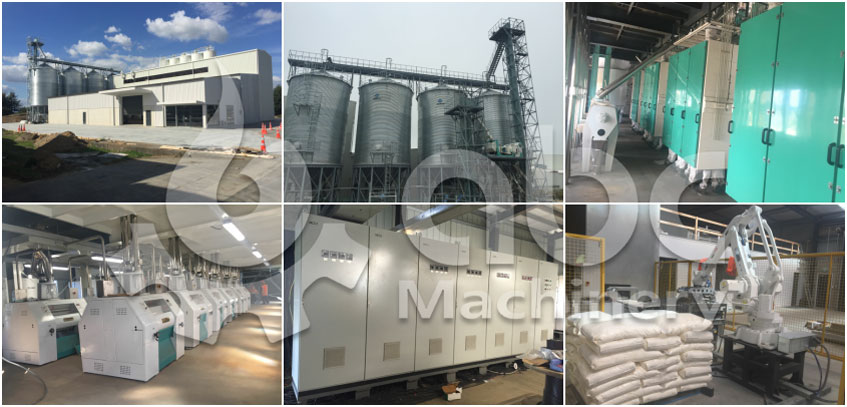 160TPD New Zealand Wheat Flour Mill Plant Project Setup Site
60-150TPD Wheat Flour Milling Machine Production Line Composition
The fully automatic flour mill can be used as a stand-alone machine or in conjunction with other flour processing equipment. According to the flour milling process, the flour mill equipment is mainly divided into the grain cleaning equipment and the flour milling equipment.
60-150T/D Wheat Flour Mill Plant Equipment Composition






Wheat cleaning part equipment

Magnetic selectors

High efficiency vibration sieve

Destoners

Wheat washer

Rotary sieve classifier



Wheat flour milling part

equipment

FMFQ100 type pneumatic mills

FSFG6*24 plansifters

FQFD49*2*3 purifiers

FPDW45*2 bran brusher machines
Automatic Flour Processing Machine Production Line Features
Fully automatic flour milling machine is manufactured in accordance with GMP certification and food hygiene certification.
Adopt round sieve to purify and clarify wheat flour, easy to replace
The rolling mill is precisely manufactured and controlled by pneumatic method, which has better milling effect compared with ordinary rolling mill.
A full set of wheat flour mills can choose different equipment configuration according to your special needs.
Large flour mill machinery and equipment can process a variety of grain crops, such as wheat, corn, sorghum, rice and other materials.
Fully Automatic Flour Mill Plant Price & Selective Purchase
How much is a fully automatic flour mill? How much is a complete set of flour processing equipment? There is no doubt that when buying an automatic flour mill, people are more concerned about the price of the flour mill equipment, which relates to your flour mill plant project cost.
1. Different manufacturers' automatic flour machine prices vary.
Different flour mill machines manufacturers charge different prices for the same model and quality of automatic flour machine because they have different business plans and production costs, and the pricing of various flour equipment will be different.
2. Different models' automatic flour machine prices vary.
Customers can choose one or more automatic flour units according to their personal needs and flour processing capacity. Different models have different prices. In general, the larger the capacity of the automatic flour mill, the more expensive it is.
3. The quality is different, and the price of the automatic flour machine is different.
The materials and technology used to manufacture the automatic flour mill will affect the quality and efficiency of the mill, as well as its price.
In addition, the configuration, production capacity and process of the complete set of flour processing equipment will also affect the price of the flour mill plant. Pay attention to the function and quality when you buy flour making machines. If the quality of the chosen flour processing machinery is not ideal, the maintenance at a later stage is also a considerable expense. (Read More: The daily-maintenance of flour mill>>)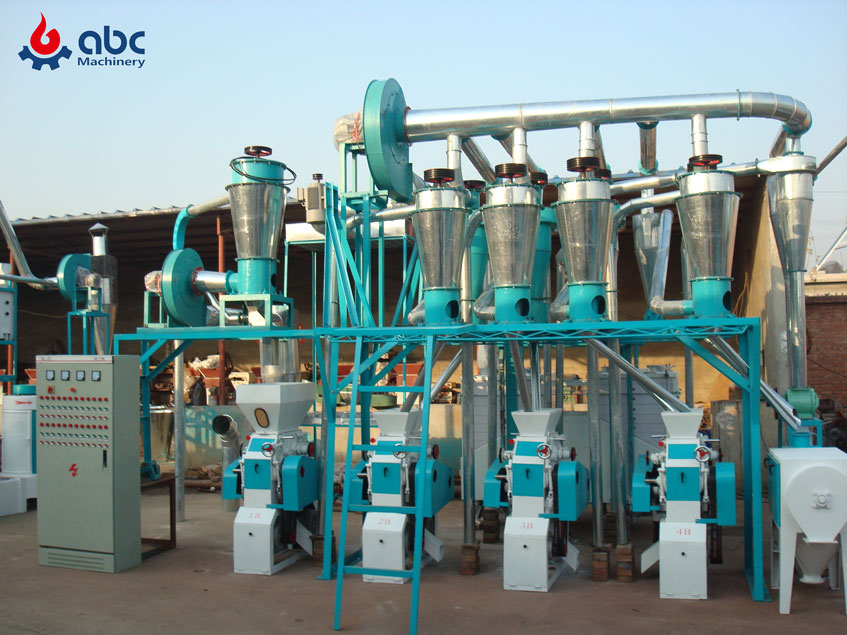 20TPD Complete Wheat Flour Processing Plant for Sale
If you have a need for a fully automatic flour mill and don't know which fully automatic flour mill to choose, please call/mail ABC Machinery, and our engineers will recommend the right flour mill for you according to your actual situation.(Related Posts: How to setting up a flour mill in Pakistan>>)

How to Choose A Good Flour Mill Equipment Manufacturer & Supplier
We actively explore the international market and are committed to improving the quality of our flour processing machinery. In order to better meet the requirements of our customers, we have a professional installation and commissioning team to help our customers set up flour mill plant projects.
Quality: Check the quality of products and services.
The best manufacturers and suppliers use only the highest quality materials, ensuring that their products are durable and will stand the test of time.
Reputation: Research the supplier's reputation in the industry.
A supplier's reputation can provide an indication of their level of quality and service, as well as their ability to deliver on time.
Warranty: Consider warranty terms and conditions.
Ensure that you are purchasing a quality product that is covered in the event of a problem.


ABC Machinery: A Professional Manufacturer of Flour Mills