Offer Customized Flour Processing Plant Layout Design
If your answer is yes, we are going to take you through on all the requirements of setting up a small, medium or large-scale flour mill plant. Starting a flour mill plant business is a complex process that requires careful consideration of various factors. Selecting an appropriate site for the flour milling plant is a critical decision that will determine its success. (you may want to kown: The investment prospects of flour milling industry>>)
Factors Influencing Site Selection of Flour Milling Plant
The flour milling plant site must provide a suitable environment for the operation of your flour mill business, as well as an attractive price point. With the right site selection of flour milling plant, the flour mill business can be successful and profitable in the long run.
Environment: Noise Problem, Sewage Disposal
Flour mill machines and equipment production will have a great impact on the surrounding environment, the biggest is the noise and sewage pollution, affecting the sleep and living conditions of residents. It is therefore important to ensure that flour production is managed in a responsible manner to reduce its environmental footprint.
Cost: Price of Land, Operating Costs and Related Taxes
First and foremost, the price of the land must be taken into account. Depending on the size and location of the site, this cost can vary drastically. Additionally, operating costs such as labor, utilities, and flour mill machines daily maintenance must also be taken into account. Furthermore, depending on the location of the property, there may be various taxes and fees associated with the property. (Related post: flour mill project cost>>)
Planned Production Scale of The Flour Mill Plant
The selection of the site for a flour processing plant is an important factor that affects the planned production scale of the flour mill plant. The site should be chosen carefully to ensure that the plant has sufficient space to accommodate the expected flour production scale.

Other Factors
In addition, the construction of flour mill machinery and equipment plant site must have the required water and power supply. Its location should be selected in the convenient transportation to support the normal flour milling process. Furthermore, the site should be located in an area that has access to a sufficient supply of grains and other raw materials required for the flour production process.
At the same time, the location of the flour mills should comply with the principle of saving land and not occupying farmland, and meet the requirements of health and processing technology and town planning.
Setting Up a Flour Mill Processing Plant Business
Flour mill plant site selection is a key step in the flour mill business starting, let's learn more about how to set up a flour mill.
Step 01 Make flour milling business plan well
Creating a successful flour milling business requires a comprehensive plan. Creating a good business plan is essential to the success of a flour milling business. Taking the time to develop a thorough and detailed business plan will be important to ensure the success of any flour milling business.
Step 02 Determine the type of flour to be produced
It is important to identify the target market for the flour and the various types of flour that will be produced. It is also important to assess the competition and identify any potential opportunities to increase market share.
Step 03 Understand the basic flour production process
Take common wheat flour processing steps as an example. The production of wheat flour involves several steps.
Wheat → cleaning (screening, de-stoning, magnetic separation, etc.) → moisture adjustment (including wetting and blending) → grinding (mill, loosener, cleaner) → sieving (flat sieve, high square sieve) → packaging of finished products
Step 04 Flour mill plant functional room setup and layout design
The basic flour milling plant functional rooms are set up as follows: raw material storage, dressing room, production workshop, food additive storage, package material storage, packaging room, finished product storage. Distinguish between general operation area and clean operation area, as follows. (Read more: flour mill construction selection>>)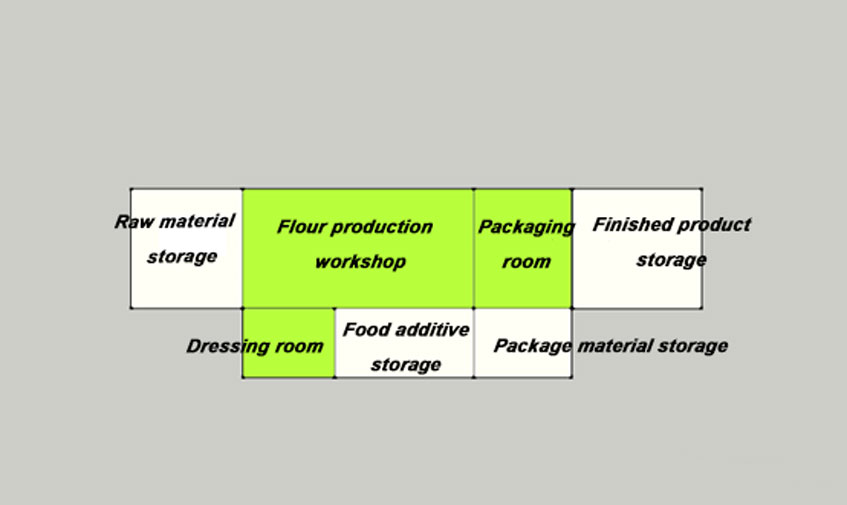 Flour Processing Mills Function Room Layout Design
The light yellow is the general operation area, and the green is the clean operation area.
Normal enterprises will not design the plant so hastily, we will refine and deform the above diagram to make it a feasible plan for building the flour production plant, in addition to setting doors, transfer windows, etc.
Step 05 Buy flour mill machines from reliable manufacturer
The quality of flour you produce is highly dependent on the flour milling machines you buy. Buying good flour milling equipment helps you produce high-quality flour so that you can gain market share. Complete flour mill plant equipment includes the following machines:
| Serial Number | Flour processing machines |
| --- | --- |
| 1 | Screening equipment (vibrating screen, flat rotary screen) |
| 2 | Specific gravity de-stoning machine |
| 3 | Magnetic separation equipment (electromagnetic rollers, permanent magnets) |
| 4 | Flour milling machines |
| 5 | Sieving equipment (flat sieve, high square sieve) |
| 6 | Flour cleaning machine (necessary for special wheat flour) |
| 7 | Flour packaging equipment |
| 8 | Other necessary auxiliary equipment (such as gibber, wind net, etc.) |
ABC Machinery is the world's leading specialist manufacturer/supplier of grain processing plant, offering turnkey design, installation and commissioning services. ABC Machinery has built many turnkey flour production plant projects for customers in New Zealand, Chile, Zambia, Argentina, Indonesia, Ethiopia, Colombia and other countries.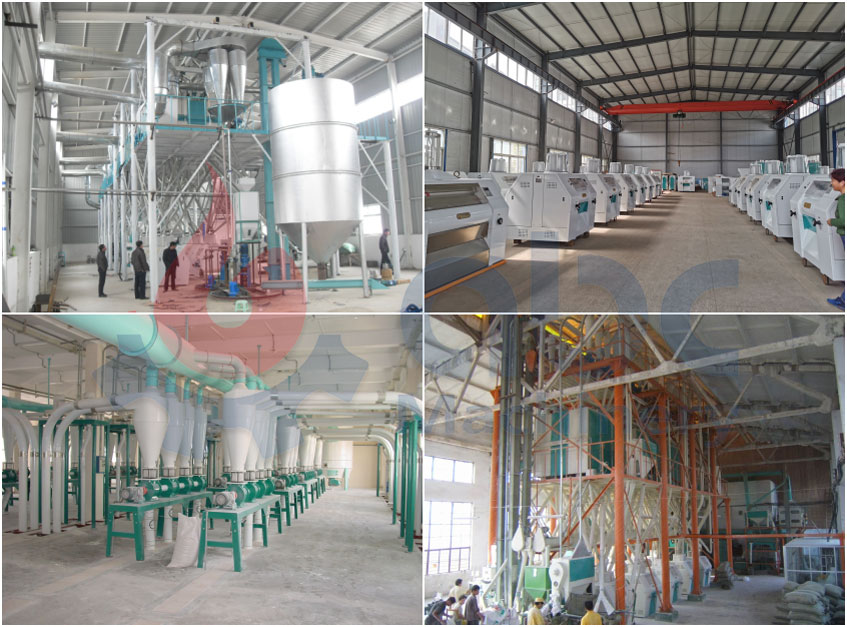 ABC Machinery Flour Mill Plant Project Setup

Step 06 Plan product packaging, distribution and advertising
Once you start your flour mill business, looking for attractive packaging that can entice buyers and suppliers to try your product. Advertise your product in commercials, online media, local newspapers and any media you deem applicable. Finally come up with a good supply and distribution plan to ensure that your product is well delivered to the market.