Facts about Maize Flour Consumption in South Africa
Is it profitable to start a maize flour mill business in South Africa? Consider the consumption of maize flour in South Africa.
Maize is used as a staple food in most South African households, with a per capita consumption of 87kg per year.
Main maize dishes in South Africa are Mieliepap or maize porridge, which are a staple breakfast and also consumed for lunch and dinner.

More than one fifth of all maize consumed in the world is consumed in Sub-Saharan Africa.
South Africans consumed approximately 5.2 million metric tons of processed maize in 2019/2020. White maize is mainly used to produce maize meal, which is primarily used to make porridge in South Africa.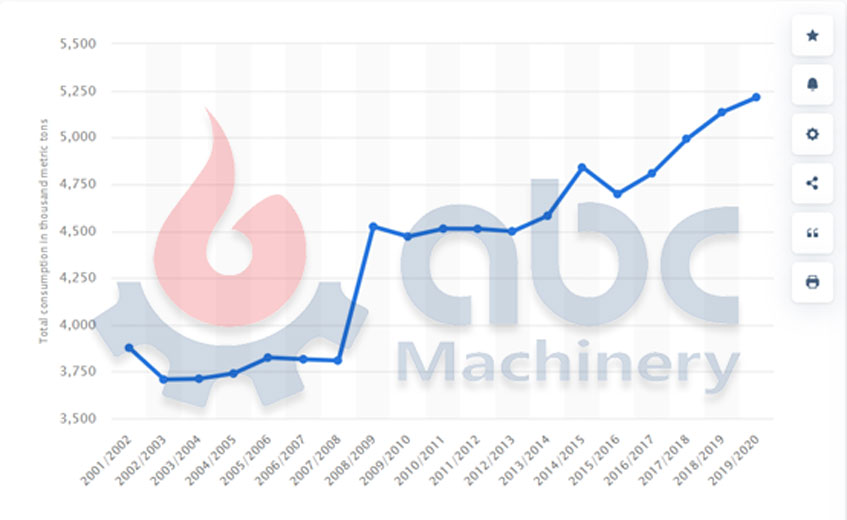 Consumption of Processed Maize in South Africa from 2001 to 2020
From the above it is clear that starting a maize flour mill business in South Africa is an excellent opportunity for the entrepreneur who wants to enter the maize mill industry. If you are also interested in setting up a maize mill plant in South africa,feel free to contact us for more related information! (This article may give you some insight about your business: Setting Up A Flour Mill In Pakistan>>)

The Feasibility of Starting a Maize Mill Business
However, there are some key considerations to be made before starting a maize flour milling business, which determine whether your maize flour mill business can be conducted.
Determine Your Maize Flour Mill Business' Goals
Determining the goals of a maize flour mill business is essential in order to ensure success. Goals provide focus and direction, allowing the business to prioritize initiatives and resources. Also, having clearly defined goals can help the corn flour mill business to attract potential investors and partners, demonstrating the business' commitment to success.
Obtaining Start-Up Capital for Your Maize Milling Business
For those looking to start a maize mill business in South Africa, there are several sources of capital and investments available. These include traditional forms of finance such as loans and equity investment, as well as alternative sources such as crowdfunding and venture capital. It is important to understand the different types of finance and how they can be used to best advantage.
Is a Maize Milling a Profitable Business Idea?
Will your maize flour manufacturing business be profitable in South Africa? For this question you need to consider the following factors.
How much are the maize flour mill plant setup costs and expenses?
Land price or rent of the maize mill plant

The price of raw materials-maize

Transportation costs

Labor costs

Power consumption and electricity
What is the selling price of maize flour and by-products?
How much you can sell per year?
Five Tips Helping to Achieve Your Maize Milling Business Plan
Once your maize mill business plan is solid, the next step is to execute it. This will involve following steps to start operations. (Related Article: How to start a maize flour mill business>>)
1 Selecting the Right Maize Milling Factory Location
Proximity to markets and suppliers.

This will ensure that you can easily access the necessary raw materials and quickly distribute your products to customers.

Adequate infrastructure and an efficient transport network.

The area should have adequate infrastructure such as reliable electricity, water, and sewerage systems. Additionally, the location should have access to efficient transport networks to ensure the smooth distribution of your products to customers.
More information on selecting a site for a maize processing plant: site selection of flour milling plant>>.


Maize/Corn Flour Mill Plant Layout Design 3D Diagram
2 Obtaining Necessary Permits and Licenses
In order to legally operate a maize mill business in South Africa, you will need to obtain certain permits and licenses from the local and national government. The most common permits and licenses needed for a maize processing plant business in South Africa include a business license, a food safety permit, a pollution control permit, and a tax clearance certificate.
3 Identify Your Raw Material Suppliers
Once you have researched your market and understood what the demand is, you need to identify your suppliers. Will you grow and supply the maize, or will you buy it from other maize growers? If you plan to purchase maize from other sources, do your homework and find a reliable and sustainable supplier.
4 Buy High-Quality Maize Flour Milling Machines from Reliable Manufacturer
When it comes to starting a maize mill business in South Africa, access to quality maize milling equipment is essential. Depending on the size of your business and the amount of maize that you need to mill, you may require different types of maize mill machines. When buying maize milling equipment for your business, it is important to ensure that you are investing in quality machines that will be reliable and efficient. It is also important to ensure that the equipment is easy to maintain and will last for a long time. buy flour mill machine for business
5 Advertising And Launching Your Products
Understanding your consumers will determine how your product is packaged and marketed. Are you selling wholesale, or will you be retailing directly to the consumer? Do you need to advertise, or have you locked off a steady clientele in advance? Knowing this will also determine what kind of delivery transport you need and how much you should budget for it.
ABC Machinery: Offer You Superior Maize Mill Plant Equipment
10-30TPD Small-scale Complete Maize Mill Plant for Sale
ABC Machinery produces and manufactures 10-30TPD maize flour/grits processing machinery, which can produce ordinary flour and standard flour with a daily output of 10 tons - 30 tons, which is ideal for individual small maize flour milling plants. The equipment has the characteristics of small investment, quick effect, easy operation and maintenance. You can choose from a range of different capacities and configurations depending on the scale of production and production process you are planning. (Read More: Maize/corn flour miling process indroduction>>)

10TPD Maize Milling Plant Equipment List
| No. | Equipment Name | Qty. | Power(KW) |
| --- | --- | --- | --- |
| 1 | Bucket elevator | 1 | 1.1 |
| 2 | Combination cleaner | 1 | 3 |
| 3 | Bucket elevator | 1 | 1.1 |
| 4 | Descrustation | 1 | 13 |
| 5 | Descrustation | 1 | 15 |
| 6 | Crusher | 1 | 4 |
| 7 | Bucket elevator | 1 | 1.1 |
| 8 | Magnetic drum | 1 | |
| 9 | Roller mill | 2 | 8 |
| 10 | Round sieve | 3 | |
| 11 | Fan | 1 | 5.5 |
| 12 | Dust catcher | 1 | |
| 13 | Air lock | 2 | |
| 14 | Control panel | 1 | |
| 15 | Supports | 1Set | |
| 16 | Pipes | 1Set | |
| 17 | Cables | 1Set | |
| 18 | Platform scale & portable sewing machine | 1Set | |
30-100TPD Maize Flour Mill Plant Project for Sale
ABC Machinery produces and manufactures a 100 TPD maize flour mill set, which is an automatic maize flour production line, including cleaning part, flour making part and products packaging part.
ABC Machinery has been specialising in the manufacture of one-stop grains and oil mill machinery for over 20 years, with advanced manufacturing technology and a professional team. We are an experienced manufacturer of maize processing plants, offering the turnkey project design, maize mill machines manufacturing, plant layout design, operational advice, with professional engineers for planning and advice. And we have had built many turnkey projects for our clients in New Zealand, Chile, Zambia, Argentina, Indonesia, Ethiopia, Colombia, etc. Welcome your inquires about our maize mill equipment!